Cheeseburger in … Caseville? 2015 festival date: Aug. 14–23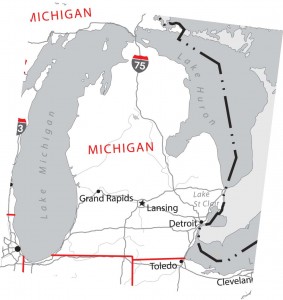 To quote John Belushi in Saturday Night Live's Olympia Cafe sketches: "Cheeseburger, cheeseburger, cheeseburger!"
To quote thousands of Parrotheads each August: "Cheeseburger in Caseville!"
Cheeseburger in Caseville is an annual Jimmy Buffet-themed festival, held in the tiny Michigan burg since 1999. The town and its neighbors love to see them coming: Revelers snap up every available hotel accommodation within a 40-mile radius, renting houses in town and filling the nearby county park and 40 more acres with campers and tents so they can enjoy music, talent contests, races, kids' games and the festival's signature event: the two-hour Parade of Tropical Fools.
The first "Cheeseburger" festival attracted about 5,000 people, still a significant event for a town of only 755.
"It gets bigger every year," said Jamie Learman, Caseville administrative clerk and its former police chief. She estimated the yearly draw to now be "well over 50,000" people. The growth was steady, but gradual enough for the municipality to adjust and prepare for the burgeoning crowds.
The administration of Caseville has never forgotten its proper role in hosting the festival.
"Our ultimate responsibilities are to the taxpayer and to businesses," Learman said. "It's a balancing act." From the beginning, the municipality set its financial sights on solvency.
"Our ultimate goal is to cover all the costs so there is no burden on the taxpayer," said Learman. "Last year we brought in about $15,000," just enough to cover the additional security and cleanup expenditures.
The money comes from vendor permit fees, which started 16 years ago at $15 for the run of the festival. They now amount to $500 for five days of the 10-day event.
Caseville has also forged win-win working relationships with the local chamber of commerce. "They run the show and we cooperate with them," said Learman. A downtown church hosts more than 20 vendors in its parking lot and charges the vendors: The $200 per site is then donated to the town's coffers. Additionally, most of the activities occur at the county park, and the local schools' booster clubs have a monopoly on concessions sold at the amphitheater.
The arrangements have worked well enough to spawn a spinoff festival, the Caseville Country Ribstock. It's held every June and is now in its seventh successful year.
Youngsters pedal their self-decorated bicycles during the kids' parade at Cheeseburger in Caseville, an annual celebration in Caseville, Mich. The kids' parade takes place on a neighborhood street two days before the festival's centerpiece, the Parade of Tropical Fools. (Photo courtesy Caseville Chamber of Commerce)
Three revelers dressed as flamingoes pause at the shore of Saginaw Bay aft er walking in the Cheeseburger in Caseville parade. (Photo courtesy Caseville Chamber of Commerce)