Families first: Collierville, Tenn.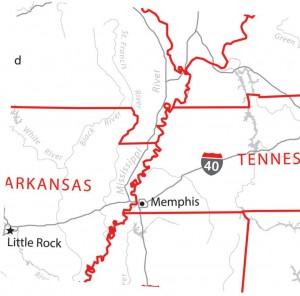 You may have heard the news: Collierville, Tenn., was honored by Parade Magazine in 2014 for having "America's Best Main Street." The White House and an assembly of federal departments and organizations have taken notice of the town, too. The same year, in addition to Parade's accolade, the city was designated a Preserve America Community. And as if these accomplishments weren't enough, the city opened the doors of its own school system in August.
Last year was definitely Collierville's time to shine.
If all these honors make the Memphis suburb sound a bit overachieving, consider the message it's sending to current and potential residents: It's no coincidence that the city is in the middle of a residential construction boom.
Safety first
In 2013 another publication, consumer financial advice site NerdWallet, named Collierville the No. 1 Best Place for Young Families to live. The city boasts over 600 acres of impressive city parks flush with meticulously groomed athletic fields. But just as important to Mayor Stan Joyner is the other side of the "best place for families to live" coin: an exemplary law enforcement agency. Joyner believes that "you can have the greatest parks in the world, but if citizens don't feel safe at them, it does you no good," Public Information Officer Mark Hueberger recounted.
"I know it sounds like Utopia, but you can walk around here at night, anywhere, and feel completely safe" Hueberger added, emphasizing the word "completely." Safe Choice Security ranked Collierville, population 46,000, among the "Safest Cities in Tennessee" last year. It's also the only police agency in Shelby County accredited by the Commission on Accreditation for Law Enforcement Agencies.
"The accreditation process really shows the pride they have in their department, and it's another reason for the public to have pride in that department," noted Joyner.
The city and police department administrations share a philosophy of visibility that manifests itself partly through a program of resource officers.
"Kids grow up with a police officer. They're there in uniform, in the classroom and interacting with the children. That's a taxpayer investment," said Joyner.
Underlining the support that the Collierville Police Department enjoys is a volunteer program in which retirees do nonsensitive police-related duties that would normally take officers off the street. Additional public safety initiatives that enjoy strong participation include Neighborhood Watch, vacation checks and a citizens' police academy.
Joyner also looks out for the well-being of those who look out for Collierville.
"Police, fire, public works — we want it to be a safe for our employees. We try to have good equipment for them to use and give them the support they need."
Home-grown education
If you look at the best cities in America, Hueberger said, among the fabric of every one of them is a great school system. Education has been a priority throughout Collierville's 145- year history.
The city's schools were formerly part of the Shelby County Schools system. After SCS absorbed the Memphis City Schools in 2014 and the state legislature lifted a moratorium on new school charters, Collierville was granted a charter to run five local elementary schools, two middle schools and a high school.
"The citizens have absolutely loved it," said Hueberger. Collierville Schools is nearing the end of its first academic year.
Because Collierville Schools was a new entity and funding from state and federal sources would not be available until after the school year began, the city shouldered $7.2 million in start up costs. Those funds were in reserve and available from a half cent increase in the local option sales tax approved in a 2012 referendum.
Among several greater Memphis cities that chose to establish their own school charters at the time, only Collierville did not have to incur debt.
"We have set an area of strategic focus on stewardship," said Joyner. Additionally, "We knew a school system would put a burden on taxpayers, so we went to the state and asked for a referendum of $.01 local sales tax."
The largest city in Shelby County outside of Memphis in sales tax revenue, Collierville saw the referendum passed overwhelmingly. The tactic raised half of the seed money needed to get the corporation up and running. Plans are now in the very early stages to concede Collierville High School, which is at capacity, to a new structure at a different location.
The school's saturation is a reflection of an influx of newcomers to the community: a palpable demand for housing manifested itself in a roughly threefold increase in residential building permits each year between 2011 and 2013, compared to 2009, and a Demand Institute projection of a 33 percent increase in the median price growth gain from 2012–18.
Authentic leadership
Each morning as he contemplates the day's agenda, Joyner said he makes a distinction between urgent issue and important ones. He tries to focus on the important.
"It's a kind of a philosophy of 'Let's take care of everything that's important today.' If you do that, then there won't be any urgent problems."
Indeed, there aren't many.
Joyner was tutored in Collierville politics for four years during a stint as alderman; he also sat on the priory/council for 12 years before that. Born in Collierville, he still operates a part-time State Farm Real Estate business there.
"I've been on the board since 1999. We set a vision of how we wanted Collierville to develop as a town that had families in mind, that people would move here because of the family atmosphere. We made a huge investment in parks.
"The other thing that's part of our history is that Collierville has always been a full-service community. We pump and treat our own potable water, take care of our own sanitation, roads, potholes and drainage issues."
Now nearing the end of his second term as mayor, he jokes that he never has to leave town for anything, unless he wants to.
"We have wonderful restaurants, movie theaters, a diverse business community. There's no need."
The city was hardly spared from the recent recession. It bounced back strongly, though, thanks in no small part to Joyner's budget savvy and decisiveness. Collierville is currently debt-free and is one of only four cities in the state to enjoy a AAA-bond rating from Standard and Poors.
According to James Lewellen, town administrator, the city's annual budget is in large measure "a visible expression of our plans for enhancing the quality of life from year to year.
"Our basic fiscal philosophy is a 'live within our means' approach," he said in the city's 2015 Citizens Report. That principle has allowed the city to avoid property tax increases for the past three years.
Joyner thinks the city was set on a good path years ago.
"I think we probably owe a debt of gratitude to our forefathers. They went to great pains and a lot of work to lay out our main street, the historic downtown square and the whole appearance of our downtown. Then and now, if you asked people to show you Collierville, they would start there and everything else would radiate outward.
"I've heard from so many people who compare it to everything from a Norman Rockwell painting to, well, America's Best Main Street."
It wasn't always that way, however. Growing up in Collierville in the 1960s, Joyner witnessed businesses begin to abandon the center of town. "Had residents not started moving to protect that, it might have been a much different reality today."
As mayor, Joyner picked up that conscientious baton.
"For him, it's got to be first class and well done," admitted Hueberger.
communitytable.com/326515/parade/americas-best-main-street-and-the-winner-is
www.nerdwallet.com/blog/family/best-towns-tennessee-young-families