Bringing propane on board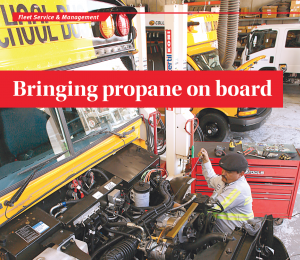 When it comes to alternative fuels, propane sometimes called liquefied petroleum gas, or LPG dwarfs all others in terms of total vehicles in operation, both on and off the road. Of those propane vehicles being used, many are in municipal fleets, including light-duty and medium-duty vehicles, plus commercial lawnmowers and forklifts.
While CNG has been the alternative fuel of choice for municipal refuge and transportation fleets, especially if the infrastructure for that fuel is already available, Chief Business Development Officer Tucker Perkins with the Propane Education Research Council stated, "For almost everything else, propane really is the clear choice."
For one thing, propane offers the best cost equation: requiring less upfront infrastructure costs since, due to propane's longevity, a lot of the infrastructure is already in place; decreasing emissions; lowering fuel costs; and more.
"In almost every specification, standard scan tools (using the on-board diagnostic system) can be used," Perkins noted. He added, "Diagnostic codes should match in propane fuel only vehicles."
Additionally, when bringing LPG into the fleet little work will need to be done to a modern garage, according to Perkins, since they seldom have oil pits or sump where unintended release of LPG will want to pool. "If there are oil pits and sumps, then you might have to do something different in those areas."
However, just like when bringing in any other type of alternative fuel into the fleet, focus needs to be given to making sure technicians are prepared.
"The first thing technicians have to realize is, its not a diesel or gasoline system," Perkins said, noting propane has different properties when compared to other types of fuels. "Propane is a pressurized system, they need to be mindful of that."
In many ways, propane is a safer fuel to work with versus more traditional fuels like gasoline or diesel. Propane has a higher ignition temperature and a narrower range of flammability than gasoline. Another benefit is that propane systems operate at a lower amount of pressure. Perkins noted most propane systems operate at around 312 psi compared to most CNG systems that operate at around 3,600 psi or more.
Due to that smaller amount of pressure, the work tends to be simpler. However, Perkins quickly added, "They still need to be trained."
Training needs to remain a top priority for fleets, and he stated that there are plenty of options out there. "All equipment providers have training programs and trainers to address installing and maintaining their equipment."
Companies that manufacture propane-fueled vehicles are serious training avenues that offer training not only on propane, but on their specific products, including troubleshooting. Since propane has been around a long time, in addition to more precise, detailed codes and standards, manufacturers also have better training programs in place when compared to other alternative fuels that are just coming into their own.
"We have been working with National Alternative Fuels Training Consortium for over a year now and have training that they have written and presented across the country," Perkins said.
PERC's goal is to continue to develop that training program and expand it to more community colleges.
"We are working toward certification," Perkins added, noting they hope to have it available by the end of 2015. The certification program would allow technicians to become certified propane installers or certified service technicians.
In addition to the partnership with NAFTC, PERC has also worked with Clean Cities and other organizations in order to identify more robust training and certification options. PERC's efforts have also gone into working with first responders and making sure they know how to respond to vehicular accidents involving propane vehicles. Information provided to firefighters and other first responders includes how to ID a propane vehicle, how to turn off a tank if there is a leak and more. So far, Perkins noted the program has received a strong response.
"Propane is the dominate alternative fuel in terms of vehicles on the road," Perkins said, noting school buses in particular use propane. For this reason, it is especially important to have first responders just as informed as technicians.
"We have people who can talk to them on these specific issues. We see our role very clearly to be an information source between mechanics and the fuel." That information includes proper garaging and maintenance. "We want to be a good resource for them — no matter if they want to reduce costs, reduce emissions or reduce their dependency on foreign oil, we offer all that."
For resources about propane, visit www.propanecouncil.org or www.propane.com