Kochek Designs Specialty Suction And Discharge Elbow
Swiveling 90 degree elbow with stationary flange adapts for many applications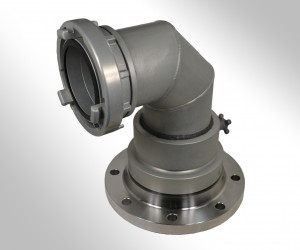 Putnam, CT; February 2015—— After successfully custom engineering a new suction and discharge elbow for use on New York Fire Department fireboats, Kochek Company has introduced the specialty product to broader markets. The Connecticut-based manufacturer of high quality water flow products and connections designed the product to FDNY specifications.
Featuring a stationary flange, the 90° elbow incorporates a full-time swivel and locking knob. Such universal adaptability makes the new product well suited for applications beyond its prototype, such as front suction in fire pumpers, fixed assemblies in marinas or shipyards, oil rig platforms, and refinery fire protection inlet manifolds. The new adapter consists of a 6 inch storz head and 6 inch stainless steel flange and may also be ordered with threaded heads.  It is available in Kochek's exclusive Micralox® anodized coating which produces long-lasting resistance to abrasion, chemical and salt corrosion. Micralox is available in several vibrant color options.
About Kochek Company
In business for over 27 years, Kochek Company manufactures the highest quality specialty fire equipment for applications in water movement, firefighting, irrigation, facilities, power and industrial fire protection. The company's diversified engineering specialists design custom, timely solutions to customers' specific needs. Based in Putnam, Connecticut, Kochek is the nation's largest manufacturer of PVC lightweight suction hose and a wide variety of strainers, dry hydrants, elbows, adapters, caps, plugs, and valves. For more information, please contact Kochek at 800-420-4673 or visit the company website at www.kochek.com.