Peracetic acid replaces chlorine at Florida wastewater treatment plant
MARTHA S. GRAHAM, | Guest columnist
P.E., Director of Public Works,
St. Augustine, Fla.
GLABRA SKIPP | Guest columnist
Environmental Compliance Analyst,
St. Augustine, Fla.
Since 2009 the city of St. Augustine, Fla., has been on the path to improve operations, improve the environment and save chemical costs by replacing chlorine disinfectant with peracetic acid. St. Augustine's work with PAA has led to presentations at a variety of technical and professional associations and a published paper with the Water Environment Federation that resulted in us winning the Gascoigne Award from WEF at the September 2014 Technical Exhibition and Conference in New Orleans, La.
Peracetic acid is an approved disinfectant that has been used for decades in the food and medical industries; however, it has historically been considered too expensive for use in wastewater disinfection applications. Recently, rising concerns around trihalomethanes have opened the door to exploring alternative non-chlorine based disinfection technologies. FMC Corporation approached St. Augustine looking to test its product for wastewater treatment applications in Florida. A vendor looking for operations to test its product is not a new idea; however, the wastewater treatment plant staff liked what they saw and heard from FMC and its associates. What resulted from these series of meetings was a long-term relationship with FMC, which teamed with the city to conduct pilot and full-scale studies, with approval from the Florida Department of Environmental Protection.
The 5.0-million-gallons-per-day St. Augustine WWTP was ideal for a pilot study due to the fact that the plant's flow was split between two identical 81,530-gallon chlorine contact chambers. This configuration enabled evaluation between the PAA and chlorination/de-chlorination systems across three performance criteria that were critical to the plant: disinfection performance, effluent toxicity and chemical costs. The objective was to conduct a full-scale demonstration test to determine if a PAA disinfection system, using automated dose control technology could effectively reduce pathogen levels to achieve regulatory compliance while at the same time preventing harmful residuals from forming in the treated effluent.
In April 2010, the two-month pilot study was conducted. One tank was treated with a 12 percent sodium hypochlorite solution dosed at an average of 10 parts per million, the other with VigorOx WWTII, a 15 percent peracetic acid formula manufactured by FMC Corporation, dosed at an average of 1.5 ppm. After disinfection, both treatment tanks were blended together and dechlorinated with sodium bisulfite prior to discharge into the Matanzas River. The test results demonstrated that PAA was consistently able to reduce pathogen loads to achieve regulatory compliance, prevent harmful residuals from forming in the treated effluent and reduce overall chemical consumption and cost. With the successful completion of the project, work began to permit and implement a full-scale operation.
The Florida Department of Environmental Protection issued the plant a permit in Oct. 2011 to begin full plant peracetic acid disinfection, with the following conditions: dosing a minimum of 1.5 ppm PAA, monitoring effluent residual continuously and demonstrating through daily effluent grab samples that 1.0 ppm PAA residual is not exceeded. The option to use chlorination/dechlorination as a backup disinfection method was included in the permit.
Several facility modifications were made prior to implementation: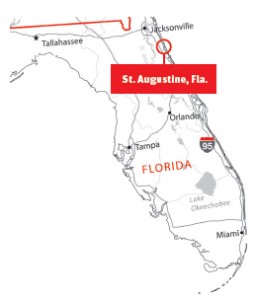 • Two Flowmotion Systems Series 2001 HEC peristaltic pumps installed to pump PAA to dosing point
• Two roll top hardcover containment structures set up to house in-use PAA totes
• Containment built around bulk PAA tote storage
• PAA dosing point installed at the common discharge point of the plant's clarifiers to allow mixing prior to the contact basins
• Continuous PAA residual analyzer installed at effluent discharge
• Peracetic acid Single Analyte Meter from CHEMetrics obtained for testing PAA residual of grab samples
In addition, the FDEP required an operational report after six months of full-scale operation to provide an evaluation of PAA disinfection performance based on sampling results and identify operational challenges/recommendations for permit modification.
The immediate challenges faced when implementing full-scale PAA disinfection were due to existing plant infrastructure impacting dosing location and contact time. Background fecal colonies and reduced PAA residual led staff to discover that the pipe conveying clarifier effluent to the contact basins was reverse slope, and accumulated solids were placing a high demand on the disinfectant. In addition, the WWTP design features post-aeration basins after the contact basins, which increase the recommended contact time. PAA dosages doubled those used during the trial study were initially necessary until permit modification allowed relocation of the dosing point 500 feet downstream and relocation of the sample monitoring location.
Algae growth in the contact and post aeration basins appeared after beginning full-scale PAA disinfection and was magnified by leaking sluice gates and the inability to thoroughly clean the basins. After replacing the sluice gates and applying an epoxy-based coating on the tank walls, the basins were placed on a quarterly cleaning schedule. Algae growth was also problematic in the continuous effluent residual analyzer, but with six months of data indicating residuals well below the permit limit, the requirement for continuous monitoring was removed. Plant staff currently checks the effluent residual daily with a handheld meter and algae growth in the basins is no longer an issue.
The city is currently in negotiations with the vendor, now Peroxychem, to supply PAA in bulk. The bulk system has benefits that improve operator safety and reduce potential for exposure when changing totes.
The Gascoigne Wastewater Treatment Plant Operational Improvement Medal was established by the Water Environment Federation in recognition of a prominent consultant who exhibited a great deal of interest in the operation of wastewater treatment plants. The medal is awarded to the author(s) of an article that presents the solution of an important and complicated operational problem within a full-scale, operating wastewater treatment plant, which is appropriately staffed.