2015 budgets have been approved, and more than likely they include allocations for at least a few pieces of new equipment. Before submitting a specific item for purchase approval, though, take a look at what manufacturers say will be the new year's best new trends and products in several areas of municipal responsibility.
From tanker trucks for firefighting to administration software, the tools we use are improving constantly and work more quickly and efficiently than ever before. Some of the standouts are: 
Firefighting equipment
The integration of high-quality copolymer polypropylene in the design of fire truck tanks is a game-changing step forward on the front line of firefighting. Sarah Atchison, president and CEO of Midwest Fire Equipment and Repair Company, said fire trucks built with 'poly' tanks:
Ensure improved firefighter safety through a low-center of gravity, T-style tank
Deliver better impact resistance than steel or aluminum
Allow great availability, flexibility and customization of storage and locker placement
Provide leak-proof extrusion welds guaranteed never to rust or corrode
Deliver up to 5,000 gallons of water Meanwhile, Lloyd Rees of Scotty Firefighter sees through-the-pump foam systems becoming standard equipment for all firefighting units in 2015.
"They are simple, economical and produce the foam needed to extinguish fires effectively. And in firefighting, seconds count," Rees said. "Laying foam down fast can save lives and property."
Signalization
A type of in-road warning light that was traditionally used for crosswalk warning systems in the past is the brightest new traffic safety innovation for 2015, according to Dale Stewart, sales manager at Item Ltd.
"LED-enhanced left-turn lane delineation systems that respond to a call for a left turn from your signal control cabinet dramatically enhance left-turn lane lines, improve safety and reduce the number of accidents caused by vehicles cutting or drifting into adjacent lanes," he said.
The nationwide push to accommodate alternative transportation options has energized the bicycle and pedestrian signal systems industry. Now that most cities have installed lane and crosswalk signals, the move is to add strategically located devices that accommodate hearing and vision impaired individuals, said officials at Polara Engineering. The TV home improvement show "Extreme Home Makeover" featured such an accessible pedestrian signal controller in an 2014 installment of the program, saying it brought "technology for the impaired out into the community."
Distracted pedestrians add to the growing concern for safety and have further increased demand for audible pedestrian signal products. These signals are used in pedestrian hybrid beacons, or HAWKs, and rectangular rapid flash beacons known as RRFBs, which are installed at signalized intersections, according to Zane Sapp of Campbell Company. Information as to the status of the walk signal is given in many different formats including tactile, audible, visual and vibrotactile.
Shop equipment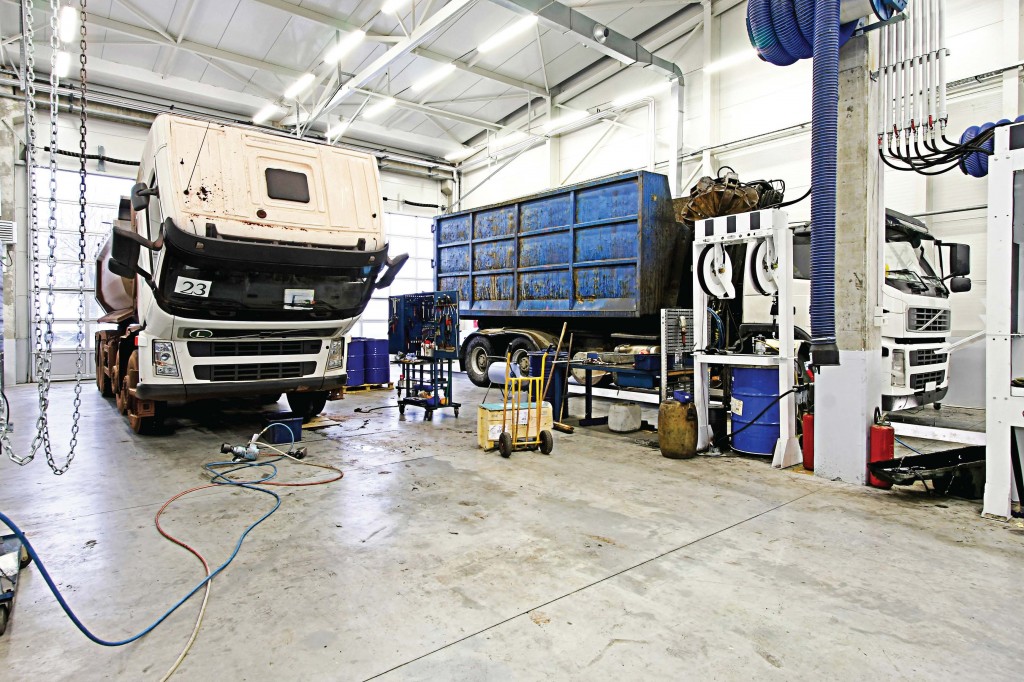 Scotchman President Jerry Kroetch predicts that for shop managers, machinery that's versatile is going to be the most valuable new purchase in 2015: something that can cut various sizes of material at different angles and doesn't take up too much floor space, for example.
Road repair
To keep city streets clean and free of debris, the new hot item will be full-featured, mechanical broom street sweepers mounted on noncommercial driver's license/CDL chassis, said John Paraschak, Stewart-Amos Sweeper Company. Users will continue to enjoy all the features commonly found on larger units but with these units will also experience better forward visibility, tighter turning and more convenient/easier driver scheduling, he added.
Road pretreatment/snow removal
After last year's brutal winter and nationwide salt shortages, the topic of salt management has been given high priority. In fact, phones rang off the hook this fall when Ventrac released a new sidewalk drop spreader that distributes salt more evenly, at lower application rates and with less material waste.
"The industry is looking for ways to apply their deicing material efficiently and without waste, and this has been a hot topic," said Renae Beegle, marketing communications coordinator.
According to a representative of Ampliroll — Marrel Corp., the movement of municipalities regarding road pretreatment is toward the changeable body concept of hook loader equipment. Also of interest are brine applicators to eliminate the labor intensive process of removing residual sand in the spring and to reduce airborne contamination from getting sand fines.
A challenge for all municipalities is increasing a snowplow's clearing capacity while also improving operator efficiency and reducing equipment road mile usages. A double-function patrol wing system operated by hydraulic cylinders for positive activation of the wing, allowing the operator to independently control the toe or heel of the wing and providing a built-in mechanical float, will address these challenges and prove to be a popular choice in 2015, said Don Gerber. Gerber is national sales manager of Monroe Snow and Ice Division, a subdivision of Monroe Truck Equipment.
To allow for quick transitions between rigorous winter and ice removal jobs and the demanding summertime duties of the job site, Joe Bonnell of Bonnell Industries is excited about new modular designs in multipurpose bodies built with the municipal market in mind. Look for high-capacity, liquid pre-wet tanks in these dump bodies, because the combination keeps snow and ice removal fleets on the road for a longer period of time.
Parks and recreation
Outdoor musical instruments for parks, trails and gardens are becoming more popular in communities. Donna Codd, CEO of Freenotes Harmony Park, thinks 2015 will be the year the number of music parks greatly increases.
"They can be enjoyed by all ages and abilities. They're designed with no wrong notes, so everyone can play it without fear of sounding bad," Codd said.
Stephanie Devine of Ultrasite thinks that outdoor fitness will also continue to be a popular trend in 2015.
"People are looking for new ways to stay fit and be active, and outdoor fitness equipment provides numerous health benefits, is free to the user, encourages people to work out together and is available essentially 24 hours a day," she said. Stations range from the everyday chin-up bar to more high-tech pieces like elliptical machines and recumbent cycles, and users can choose a variety of pieces to hit the four elements of a complete workout: aerobic, balance/flexibility, muscle strength and core.
2015 will also be a growth year for aquatic surfacing, said Caroline Wallace of Surfacing and Seating Group, PlayCore. At facilities like spray parks and aquatic centers, interest is growing in slip resistance, user comfort, and new and different attractions. Supporting the trend toward family togetherness through adventure play, aquatic facilities are becoming more popular, and appropriate surfacing will be an important safety consideration in their evolution.