Should your community consider a glass crusher?
It's the little black dress of recyclable materials: It never goes out of style, it always looks great, it doesn't decompose and it can be used again and again. However, despite its versatility, students at the University of Utah College of Architecture and Planning say that the U.S. throws away enough glass each week to fill a 1,350-foot building.
Although municipal recycling programs have become commonplace in big cities, and residents tend to take advantage of them, smaller communities such as Missoula, Mo., still struggle to implement solid programs due to the cost. As a result, glass disposal continues to be a problem. According to the Glass Packaging Institute, in 2012 only 34 percent of glass containers were recycled, meaning that 66 percent ended up in landfills and dumps.
In order to create a sustainable glass recycling program that has both environmental and economic benefits, some municipalities have turned to compact glass crushers as a way to get rid of the old and make way for the new.
How does it work?
Compact glass crushers pulverize all types of glass material into cullet — a small, nonsharp, sand-like material about an eighth of its original size. The eight-to-one reduction not only shrinks the amount of waste going into landfills, but also the volume of materials in storage receptacles, which results in reduced haulage costs.
In addition, communities have realized that crushed glass is safe for handling, and because it is similar to sand, it can be used in a variety of applications. Users can process specific colors and adjust the size of the cullet to produce a viable landscape material that can be used as mulch in golf course bunkers or sports fields, or as drainage material in soil mixes.
While crushed glass has been used in projects across the country, including in New York and Florida, it appears to be more popular out west and in remote locations such as Los Lunas, N.M., and Gustavus, Alaska.
Community application
Since 2012 the community of Los Lunas, population 15,308, has been working hard to reduce glass waste. According to Neil Hise, president of CEMCO Inc., a manufacturer of compact glass crushers, Los Lunas has diverted approximately 32,000 glass bottles from the landfill and converted them to 16,000 pounds of glass cullet for local landscaping projects. Hise said that the city shows how compact glass crushers are not only environmentally responsible, but can even open up a new revenue stream for communities.
"Municipalities can sell the crushed glass to manufacturers that make products like fiberglass insulation, ceramic tile, asphalt, non-slip paint, countertops, concrete and other aggregate mix products," he said. "Some states require that Class 5, 6 or 7 road base materials be mixed with up to 10 percent reclaimed glass. The glass sand is permeable and can improve the quality of gravel in an aggregate mix."
In Gustavus, recycling and repurposing is not a new concept. As a 400-person gateway community to Glacier Bay, Gustavus has been conscientious of the environment for over 20 years. It's proud of its disposal and recycling center that is committed to recycle or reuse as much material from the city's waste stream as possible.
Paul Berry, aka the "Dumpmaster," said his bottle-busting program was one of the earliest of its kind. It began as a way to reduce the amount of glass that ended up in the local landfill, but he now uses the end product as aggregate for the center's driveway and sells it to landscapers for $17 a bin.
"I've been told that it can be hard on linoleum, but so is sand when you stop and think about it, and that's essentially what this is. Crushed glass also looks really nice on a sunny day. You should see the way our driveway sparkles," he said.
A viable option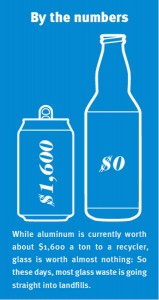 Hise said glass crushers are easy to care for, durable and are built to last, with screens that can process 50,000 bottles before needing to be replaced. They plug into standard 120–240 volt outlets, and some models even feature a variable frequency drive.
"Glass crushers are a wise investment that reduce negative environmental impacts, help municipalities save money and give back to their bottom line," he said. "Through repurposing and revenue-building opportunities, reduced haulage costs for businesses as well as less space consumption, it's one option for smaller municipalities to turn what was once waste into opportunity."