It's time to look at purchasing trucks again. Are you ready for the 2015 truck and other utility vehicle fashion show, with lots of new styles, colors and under-the-hood bling?
Check out some of the all-new exteriors, upgraded cockpits, state-of-the-art technologies, more horsepower, all-wheel drive systems, increased mpg and more. Each year brings more technology — automotive and otherwise — to the forefront.
In next year's trucks, look for increased payloads of mini-trucks, like the Chevy Colorado and the GMC Canyon four-cylinder, automatic two-wheel drive models.
The 2015 Dodge Charger Pursuit police car boasts more than 55 safety and security features, including driver warning and assist, chassis control and brake systems. Also Chrysler is introducing a new occupant head restraint method in that vehicle. The Hemi-powered cop car will also come with Mopar factory upfit tools. The Charger Pursuit V-8 and V-8 all-wheel drive models deliver 370 greatest-in-class horsepower for very best-in-class acceleration functionality necessary for police fleet duty, including zero to 60 mph in less than six seconds.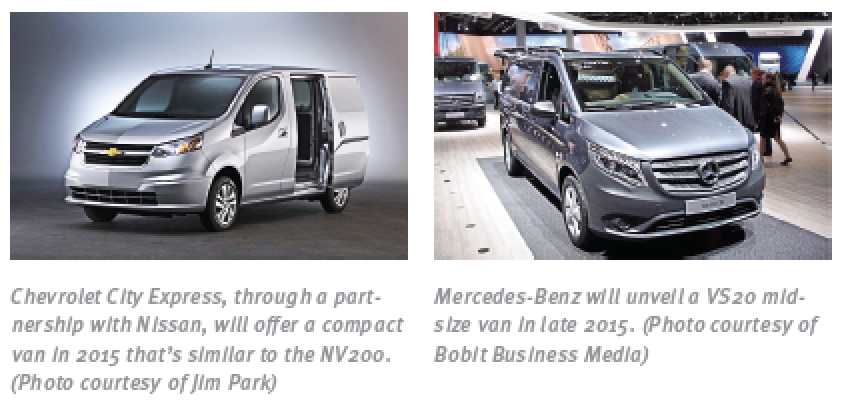 Buyers will find rain-sensing windshield wipers, adaptive cruise control, under-seat storage bins, hill-start assist, mobile hotspot, noise reduction with triple-sealed inlaid doors and many more driver-friendly innovations among the big three manufacturers' 2015 offerings.
Ford's aluminum F-150 pickup has a 2.7-liter Ecoboost V-6 engine that automatically shuts off to save fuel when coming to a full stop, in addition to providing blind-spot detection, an active park assist system and more. A caveat, though — while that model starts at $25,420, the fully loaded King Ranch or Platinum model will top more than $60,000.
This is the first year that the 2.7-liter Ecoboost V-6 has been introduced in the F-150 lineup, though previously it had been used in the 2010 Taurus SHO automobile.
In compact vans, the 2015 Chevrolet City Express has entered a partnership with Nissan that allows General Motors to offer a similar version of the NV200.
The 2015 Ram ProMaster City boasts best-in-class specifications, including combined fuel economy of 178 horsepower and 174 lb.-ft. of torque; payload of 1,883 pounds; cargo volume of 131.7 cubic feet; and cargo width and length of 60.4 inches and 87.2 inches, to list a few. The van is based on the panel van Fiat Doblò.
According to Dave Elshoff, head of Ram Truck media relations for Chrysler Group LLC, the 2015 ProMaster City compact van is the second collaboration with Fiat Professional. The 2014 Ram ProMaster full-size van was the first.
"The all-new 2015 Ram ProMaster City offers best-in-class fuel efficiency and includes bestin- class usability, payload and cargo capacity than the competition," said Elshoff.
"As fleet managers look to lower costs, the demand for smaller, more efficient vans has increased, and Ram Commercial is answering that demand with the all-new ProMaster City. Not long ago, the selection of delivery and cargo vehicles was limited, and those offerings didn't focus on cost of ownership. Today, however, by offering the full-size Ram ProMaster and now the Ram ProMaster City, Ram Commercial can continue building momentum in the commercial market by providing a full-line up for large fleets with a variety of needs."
The 2015 Ford Super Duty Pickup walks off with best-in-class 440 horsepower, and the 2015 chassis cab has a class-exclusive live-drive power takeoff. The 2015 F-650 and F-750 offer the only gas engines in a Class 6–7 truck.
Toyota lists its 2015 Tundra SR5 upgrade as replacing its bench seats with front bucket seats, in addition to offering an auto-dimming rearview mirror with Homelink universal transceiver and compass, plus a power driver's seat with power lumbar support. It also includes an anti-theft system with engine immobilizer.
Mercedes Benz will be unveiling the VS20 mid-size van in late 2015. That model, which is known as the Vito in Europe and Mexico, has been shown successfully in Germany as the Sprinter van. The van debuting in the United States will be a rearwheel drive with a 3.5-liter gasoline engine, which will come in cargo and passenger varieties. This van will only be sold through Mercedes-Benz dealers in North America. The Vito van will be manufactured in the Mercedes' van plant in Charleston, S.C.