PlaNYC: Addressing the long-term challenges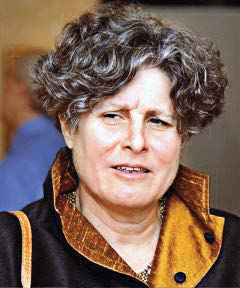 Laurie Kerr currently serves as director of the City Energy Project, which will assist major American cities in developing and implementing bold, replicable energy efficiency policy. Kerr noted she has long held an interest in sustainable energy use, adding she happened to be in the right place at the right time as a new field — urban sustainability — began to emerge, with the aim of bringing green, energy-efficient building practices to a city scale.
"I was in at the ground floor," Kerr said, allowing her to help shape new discoveries. "It was incredibly fun and I was very lucky to be where I was. There is a lot of exciting work to be done."
Kerr holds a bachelor's in engineering and applied science from Yale, a master's in applied physics from Cornell and a master's of architecture from Harvard.
"I was always interested in mathematics and physics," Kerr said. Like a lot of young people, she looked for a field that combined those interests. "Architecture was a nice mix of those interests. It turned out to be a very rich and interesting field."
She has worked closely with New York City, where she was deputy director for Green Building and Energy Efficiency in the mayor's office. Kerr helped with the development of PlaNYC, an effort to address the city's long-term challenges while also creating several initiatives and milestones to ensure citizens' quality of life for generations.
"I was lucky to find myself working there (during the Bloomberg administration.) There are not many administrations of that caliber — you could go 20 to 30 years without one. The administration really grappled with the deep problems." Some of those included air and water quality concerns, brownfields and limitations with energy and land with the city expected see a population of 9.1 million by 2030.
"The administration realized it needed to think outside the box, learn to do more out of less. PlaNYC was formed to grapple with those big, big problems and come up with solutions that are new."
Throughout the process, she said the Bloomberg administration was very open to ideas as long as proper documentation could be provided. "We could keep running until they had to stop us."
PlaNYC has 10 major goals that span from clean water and air — the city hopes to have the cleanest air of any large city by the initiative's 50th anniversary — to creating more affordable housing options. Another goal was to make sure 90 percent of New Yorkers lived within 10 minutes of a park or green space. A transformation of New York City's streets by greening them with trees is also in the mix, in addition to the placement of street islands with places to sit and bike lanes.
"There are 127 initiatives — it's very ambitious," Kerr said. "The city hopes to reduce greenhouse emissions 30 percent by 2030."
Kerr stated 40 percent of America's greenhouse gas emissions come from energy used by buildings, but in cities the numbers are much higher — typically amounting to between 50 percent to 75 percent of citywide greenhouse gas emissions. "That is why we are concentrating on buildings."
While buildings are the main users, Kerr stated, only a few of them account for the majority of those emissions. In New York City's case, less than 20,000 properties really needed to address their emissions. Kerr stated while new laws were created to address new buildings, it is a lot harder to address issues with old buildings. But if existing buildings are not addressed, cities will get nowhere even with new buildings using greener building practices.
Kerr suggested greening a city's codes and regulations to address such issues, stating, "Codes are the DNA of the city." In New York City, 200 experts in the city helped advise PlaNYC on how to make codes green. New policies included the Greener, Greater Buildings Plan; the NYC Green Codes Task Force; the Mayor's Carbon Challenge; the Energy-Aligned Clause; and Green Light New York. Kerr noted 111 proposals were also created from replacing existing carpeting slated for removal with nontoxic carpet to using newer, water-efficient appliances when replacing old appliances.
"There have been very good results," she noted.
In her current position Kerr will once again be working with cities to implement energy efficiency policies through City Energy Project, a partnership between Natural Resources Defense Council and the Institute for Market Transformation. "City Energy Project is just in its beginning. Ten cities have signed up — some of the biggest cities and biggest regions. We have a crack team of city advisors … so far, I'm very happy with how it's going."
The first step they take when working with a city in creating a sustainability plan is to ask it to "know thyself," she said. Important questions include what are the city's biggest energy users, and where are its greenhouse gas emissions coming from?
There is no one-sized model that fits every city, so while one city might look to another for ideas, it will usually change plans to match its own situation.
"We really take our cue from cities; they know the factors (in their communities)," Kerr said.
"They are really the leaders here."
Cities like Salt Lake City, with its Project Skyline, and Kansas City are pulling together locally to address sustainability challenges that are facing cities.
"It's a big deal," she said of Salt Lake City's program, noting big building owners and universities are coming together to tackle emissions and energy use. Meanwhile, Kansas City is taking a local approach and taking on several large scale projects. "Cities of that scale — like New York City — have resources to take on such projects."
On the other hand, smaller cities are dealing with budget cuts, which constrains what they can do. Kerr suggests other ways they could address energy use and emissions, such as changing street lights to LED or challenging the largest building owners to meet the city's targets for sustainability. In particular, smaller cities can look at Cambridge, Mass., which has some resources, to see what is possible."They can always do something," she said.
Kerr is involved in several organizations, such as the New York Chapter of the American Institute of Architects, the Global Cool Cities Alliance, Green Light New York and Urban Green Council; she has also served on many of their boards. Additionally, she has helped with the EBies, a national competition that brings glamor improving the sustainability of existing buildings.