AVANT TECNO USA Announces new North American Corporate Headquarters
AVANT TECNO USA  Announces new North American Corporate Headquarters in Arlington Heights, IL 
New Facility to warehouse, support and distribute Avant Multi-Purpose Loaders.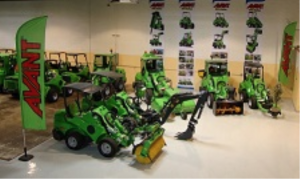 Arlington Heights, Illinois   September 29, 2014  –  Avant Tecno USA, manufacturer of compact, articulated, multi-purpose loaders, today announced its recent move into a new North American corporate headquarters at 3020 Malmo Drive, Arlington Heights, Illinois, in the Chicago-Metro area.  The move to this facility provides a new base of operations for Avant's ever-growing staff while keeping pace with the company's aggressive North American growth plans. Avant's new facility is the perfect venue for showcasing its loader solutions and growing its business while hosting customers, dealers and partners.
The move stems from Avant USA's unprecedented growth in the last two years. This change was necessary to better accommodate Avant's fast growing dealer network and market in North America. To meet current and future market demands, the new facility houses a comprehensive machine and part inventory to respond to customer needs effectively.
Located on the premises is Avant's new showroom, which provides a dealer, customer and partner an opportunity to experience all of Avant's multi-purpose models and attachments.
Two years ago Avant Tecno USA opened its first office. Today Avant not only expands its facility, but increases its sales, customer service, warehouse and executive staff to effectively serve its customer base.
About AVANT TECNO USA
Avant Tecno USA offers a new breed of compact articulated loaders and attachments to the market.  Its technology, benefits and solutions are unmatched in the USA.  Avant loaders can be equipped with more than 100+ attachments, making one machine able to do the work of several.  The use of modern hydraulics makes Avant loaders strong and durable while remaining light and agile.  For more information, visit www.AvantTecnoUSA.com or contact sales at 847.380.9822.