VOLANT PERFORMANCE OFFERS COOL AIR INTAKES FOR 2014 SILVERADO/SIERRA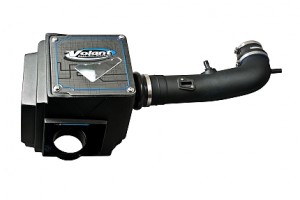 BEREA, Ohio – Volant Performance has expanded its product line to meet rising demand for performance components for the light truck market. Volant cool air intake systems, which are engineered to boost horsepower by maximizing the engine's breathing capabilities, are now available for the 2014 5.3L V8 1500 Chevrolet Silverado and 1500 GMC Sierra.
The cool air intakes are available for both the Silverado and the Sierra in a choice of either Volant's PowerCore(r) Closed Box Air Intake System (part #155536) or Pro5 Closed Box Air Intake System (part #15553).
Designed for optimal performance, Volant intakes shield warm air from entering the engine and feature sculpted air ducts with larger diameters and unique bends that direct air through specifically designed channels allowing clean, cool air to efficiently enter the engine.
Volant Cold Air Intakes are designed to perform in all condition and environments from highway driving to off-road racing. Volant Cold Air Intakes feature Donaldson(r) PowerCore(r) Filtration Technology, which is designed with a high-quality synthetic material, that won't deteriorate as quickly as traditional cellulose, paper or cotton gauze  fibers. It is maintenance free, requiring no cleaning or oiling and is warrantied for up to 100,000 miles. Volant intake systems with PowerCore(r) and Ultra-Web(r) Filtration Technology offer improved filtration and air flow over ordinary paper and cotton gauze filters and improves performance. PowerCore(r) filters trap submicron contaminants and are 99.97 percent efficient resulting in better engine health than conventional cellulose means. Volant warranties the replacement air-filters for four years or 100,000 miles.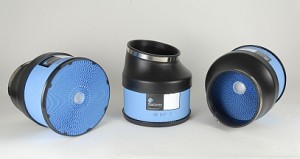 Volant's Pro5 system is engineered with Volant's high-performance, five-layer air filter, which is made of high-quality textiles, pleated between a top and bottom aluminum screen. The unique design allows for the highest air flow rate possible and an extended filter life. Pro5 filters come pre-oiled and ready for use. Cleanable and reusable for as long as you own the vehicle, the filters should be cleaned every 12,000 miles, or as needed, using Volant's two-stage cleaning kit to thoroughly clean and re-oil the filter.
Chevy Silverado and GMC Sierra components are the latest addition to Volant's expanding portfolio, which includes patented designs for a variety of vehicles. For more information on Volant's cool air intake systems for the Chevy Silverado and the GMC Sierra, call 909-481-3888 or purchase online at http://www.volant.com.
*PowerCore(r) is a registered trade name of Donaldson Company Inc.
About TMG Performance Products, LLC
TMG Performance Products, headquartered in Berea, Ohio, is a leading manufacturer of technology driven, performance products for the automotive and marine markets under a variety of brands. Its premium performance exhaust systems brand, CORSA Performance, utilizes its patented RSC technology to offer the industry's best drone-free driving experience. In addition, the company manufactures cool air intakes, featuring leading filtration technology, under its Volant Performance brand.  For more information, visit www.corsaperformance.com or www.volant.com