Princeton, N.J. — Fresh off one of the most successful conferences
in recent memory, NAFA Fleet Management Association
is bringing its annual institute and exposition to Minneapolis,
Minn., April 8–11.
Fleet professionals from throughout the United States and Canada will find four days of networking, education and an expo floor that features more than 250 exhibitors with the latest products and services in the industry. Some of the highlights for 2014 include the return of the Fleet Excellence Awards opening night party; new networking opportunities; the Alt-Fuels Drive Experience at the GE Test Track; keynote presentations by international best-selling authors and leadership experts Simon Sinek and Peter Sheahan; and more.
Online registration is open. For more information on the conference or to register online, visit www.nafainstitute.org. Companies interested in exhibiting can find complete exhibitor information at www.nafaexpo.org.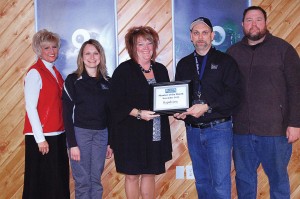 Rochester, Ind. — RapidView LLC was the Rochester & Lake Manitou Chamber of Commerce's member of the month for November. Due to adverse weather conditions, the award presentation was postponed until Thursday, Jan. 23.
Pictured from left are Rochester Chamber Director Sharon Morris; RapidView CFO Kris Robison; Chamber Executive Director, Diane Spore; RapidView President Rex Robison; and RapidView Vice President of Sales and Marketing Matt Sutton. (Photo by Amanda McFarland)