Ranger Design to Unveil the FAST-RACK
Ranger Design to Unveil the FAST-RACK; a new drop down ladder system at the North American Work Truck Show March 5-7 2014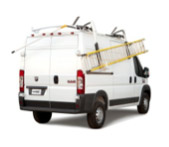 Rochester, NY February 5, 2014 – Ranger Design, the source for innovative van racks, van shelving and storage equipment, announces today their latest advancement, the Ranger FAST-RACK, a revolutionary drop-down ladder rack for cargo vans. This new patent-pending product, and all of its features, will be unveiled March 5 – 7 at the North American Work Truck Show in Indianapolis, IN.
Ranger FAST-RACK changes the game on how old drop-down ladder systems have been utilized with its single-motion operation that protects the operator and the vehicle.
[weaver_youtube http://www.youtube.com/watch?v=sOaFQG6yR8M rel=0]
The FAST-RACK:
Lowers up to 50 inches in one single motion with the operator out of the path of the descending ladder.
Was subjected to harsh testing (5-year life cycle tests, 108 degree thermo cycling and freezing rain tests) and passed with flying colors. It was also field tested for real-life feedback from tradesmen.
The standout feature of its patent pending design is the ease of operation. No secondary motion is required to lower the rack. Its gas shock assisted descent makes operation a quick and easy task.
Be sure to visit Ranger Design booth 4991 during the upcoming NTEA show for more information on this revolutionary new drop-down rack system.
_____________________________________________
Ranger Design's durable, tough commercial grade shelving systems, work stations, storage bins and ladder racks are recognized for their unmatched fit and finish. Ranger Design Inc. supplies a network of hundreds of dealers across the United States and Canada from its modern plants in Rochester, NY and Montreal, Canada.
For media inquiries call Rick Pilgrim at (800) 565-5321 x 306
www.rangerdesign.com
http://www.ntea.com/worktruckshow