Professional Grade Salt Brine Making, Blending & Truck Loading Systems: 
A mobile solution for Municipalities & State Agencies.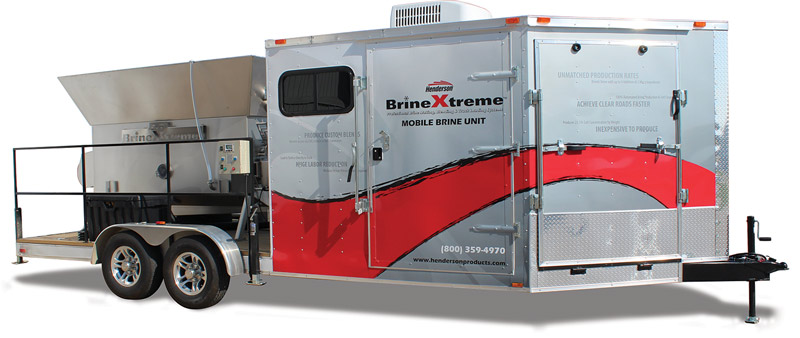 Salt brine is often applied to roadways as a pre-treatment for approaching winter weather events. This thin layer of salt brine effectively inhibits the otherwise natural bonding of snow and ice to a road's surface. However, salt brine production can have its limitations: cost of installing a dedicated facility, transportation of brine to satellite locations, labor intensive to produce, changing temperatures can affect brine accuracy, attaining adequate production rates, the ability to blend in additives, etc…
Henderson is once again pushing innovation to new levels by mobilizing its professional grade salt brine solutions.
Where most systems would struggle to produce an accurate concentration in fluctuating temperatures, the BrineXtreme shines. Measuring concentration by density negates changing temperatures with readings remaining accurate to 0.001 SG. Other key features include: production rates up to 9,600 GPH (160 GPM),  5 cu. yd. capacity, expandable to 8 cu. yd., 100% automated operation from tank to truck, 100% automated clean out, easily handles treated or untreated salt, enclosure protects the salinity control and blending module, large touch screen display, event data logging, data log printing, remote access (LAN, Cellular or WiFi), optional blending module, optional truck fill station, truck fill range of 20-400 GPM and provides a truck fill readout with data logging.
The Benefits
Mobilization = the production of professional grade salt brine anytime, anywhere
Brine Working Temperatures = down to -6° F
Cost of Brine Production = 10¢ per gallon
Pre-storm Brine Applications = prevents the bonding of snow & ice to a road's surface and offer up to a 30% reduction in annual rock salt consumption.
Henderson Products: Leadership in Emerging Truck Equipment Technology
If you'd like more information about this topic or to schedule an interview, please contact Brian Evans @ 
(800) 359-4970 or by email bevans@hendersonproducts.com