NAFA 2014: Making tracks to Minneapolis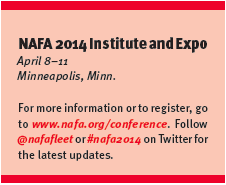 Public and private sector fleet professionals will head to the Minneapolis Convention Center next month for the annual nafa Fleet Management Association Institute and Expo.
Retaining last year's new Tuesday through Saturday schedule, the 2014 Institute and Expo opens April 8.
Pre-conference cafm/cafs exams, an alternative fuel driving experience and various receptions take place on Monday. They'll give way Tuesday to presentations of the latest in fleet management tools and ideas, and on Wednesday the exposition throws open its doors.
Several international cities and corporate entities are among this year's nominees in seven categories of Flexy Awards. The 2014 winners will be revealed on opening night at a ceremony and concert. Also taking place at the same location as the institute and exposition, for the first time, will be the annual 100 Best Fleets presentation.
"nafa and the 100 Best Fleets share a similar goal of elevating the status of fleet management," said nafa Executive Director Phillip Russo, CAE. "We've always been proud of our members who have been recognized over the years by the 100 Best Fleets program. Having the awards presentation take place during our annual conference will give the awards, the nominees and the winners greater exposure, while also adding a new flavor to I&E."
Plan to catch keynote speaker Simon Sinek, who will inspire you to, in turn, inspire your people to action; and Peter Sheahan, the founder and CEO of ChangeLabs, a company that shows you how to incorporate change into a business setting. More than 60 hours of conference educational programming will cover topics from public CNG infrastructure to police vehicle updates, and EMS preparedness to professional development. Then, on Friday listen to other government and utility fleet managers discuss current issues during a workshop designed exclusively for you.