Ten things you didn't know about Martin Luther King Jr.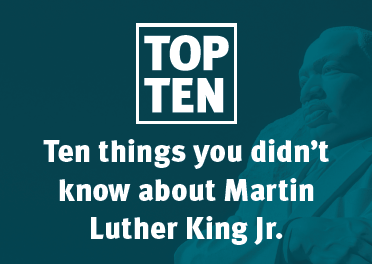 Sound sharp on Martin Luther King Jr. Day by revealing some of these less-common facts about the civil rights leader!
There are close to 1,000 streets in the world named after Martin Luther King Jr.
The former Lorraine Motel in Memphis, Tenn., where King was assassinated, is now the site of the National Civil Rights Museum.
Martin Luther King Jr. Day was not recognized as a paid national holiday by all 50 states until 2000. The last to sign on was South Carolina.
In the speech known as "I Have a Dream," those words were never in the original draft. They were ad libbed.
King's autopsy revealed that although he was only 39 years old, he had the heart of a 60-year-old man, perhaps a result of the stress of 13 years in the civil rights movement. He himself had verbally predicted he would not live past the age of 40.
His father was born Michael King, and Martin Luther King Jr. was originally called Michael King Jr. After a family trip to Germany, his father, a pastor and missionary, changed both of their names to "Martin Luther" after the German Protestant reformer.
He entered Moorehouse College at the age of 15 as part of an early admittance program that aimed to boost enrollment during the war.
Martin Luther King Jr. was a big Trekkie. He was so into Star Trek that he managed to convince Nichelle Nichols, who played Uhura, to stay on the show beyond the first season.
In 1964, at the age of 35, King won the Nobel Peace Prize. To this day he is still the youngest male to ever receive it.
There are two places outside of the United States that celebrate MLK Day: Toronto, Canada, and Hiroshima, Japan.
By Lauren Simmons: http://as.wwu.edu/asreview/10-things-you-didnt-know-about-martin-luther-king-/