Proud to serve: Sarasota's first female police chief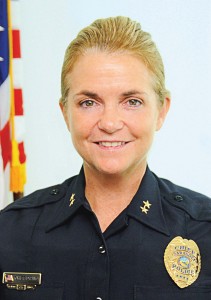 Bernadette DiPino has been police chief in Sarasota, Fla., since Dec. 31, 2012.
She began her career with the Baltimore County Police in September 1985. In April 1988, she joined the police department of Ocean City, Md., and she rose through the ranks from narcotics detective to chief — a position she held for nearly 10 years. She was the first female chief, both in Ocean City and in Sarasota.
Chief DiPino is a graduate of the FBI National Academy, an appointee to the executive committee of the International Association of Chiefs of Police and a member of the iacp Foundation Board. She is a past president of the Maryland Chiefs of Police Association and was appointed by the governor to serve on the Maryland Police Training Commission.
During her distinguished career, she received numerous departmental awards and citations, including recognition as Police Officer of the Year in 1987, 1993 and 1997.
The Municipal spoke with DiPino recently about her career in law enforcement.
Why did you get into law enforcement?
"I've always wanted to be a police officer. My father was a police officer, and I remember him telling me stories about his job. It's in my blood. I admire my dad. He's my hero. My daughter, Tabitha, is also a police officer. It's an occupation that's been in my family for five generations.
"Every single day I have a chance to make a difference. It's purposeful and rewarding. I really like people, and every day is different."
What do you like best about being in law enforcement?
"The thing I like the best is that I have the chance to make a difference in someone's life. I've always wanted to get to this level. I'm a good communicator, and I love the law. It's a perfect fit for me."
How is being a police chief different from being a police officer?
"I'm responsible for the day-to-day management of the department. There's a lot of paperwork, calls, emails and a lot less direct interaction. You are doing more than catching the bad guys. But I will always be a police officer at heart."
Since becoming police chief a year ago, what have you done differently or implemented in the police department?
"A lot has changed. I have a new philosophy of community policing. We've gotten more training, which motivates (the officers) and reduces liability.
"I think I bring some different leadership skills, and there's hundreds of other things. I implemented DMI, which is drug market intervention initiative for drug dealers. It gives them a second chance and they use mentors. It's a neat philosophy.
"The officers and I have higher visibility in the community and have a higher level of professionalism. We're changing the perception and image of the department, which was needed. We've also done a lot more communication, like with YouTube. We've vastly improved that."
Do you have any hobbies? Family?
In her spare time DiPino likes to fit in a game of tennis.
In addition to her daughter, she also has a brother, a sister and a poodle named Sea-Sea.
How do you feel about your role as the first female police chief in Sarasota?
"I feel very honored to be a role model. I think (women) have such an important role."