Equal-i-zer Hitch Named 2013 Gold Winner for Trailer Hitches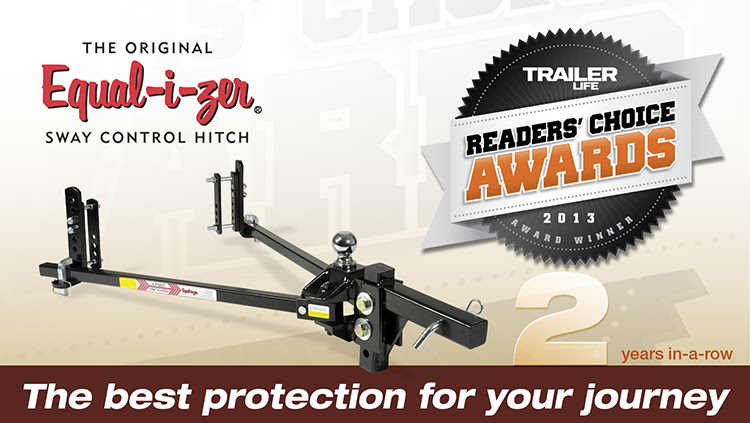 The innovator in sway-control technology and American manufacturer receives the Readers' Choice Gold Award by Trailer Life Magazine for the second consecutive year.
Equal-i-zer Hitch is a favorite among trailer owners. This fact was made even more apparent this week, when Trailer Life Magazine named Equal-i-zer Hitch as the Gold Winner in their Readers' Choice Awards for the second consecutive year.
According to Sue Seidlitz with Trailer Life, there were 15,000 voters weighing-in on all things related to trailers, campgrounds, hitches and trailer accessories. Trailer Life Magazine launched the Readers' Choice Awards in 2012 to learn more about their readers and what they value, as well as to find out which vehicles, destinations and products make life on the road easier and more enjoyable for RVers.
The survey was conducted online and allowed thousands of readers to choose from over a hundred brands, voting for their top picks in 26 different categories. Equal-i-zer Hitch is the only trailer hitch company to win the Gold award.
"Winning this award two years in-a-row is a testament to American manufacturing," states Jed Anderson, CEO. "We are the only sway-control trailer hitch with 100% of the manufacturing taking place in the United States. In a time where just about everything is outsourced and companies are more concerned about profits than quality, we are proud our hitch is American-made."
Kenny Mauerman, the director of Engineering for Equal-i-zer agrees with Anderson. "We believe this is the reason why our hitch performs so well," states Mauerman. "From the highest-quality American-made steel, to the best technology, Equal-i-zer has been proven to be the industry-leader."
Other notable companies receiving Gold awards include favorites like Jayco, Camping World, Honda, Ford and Michelin.
"We congratulate all the companies recognized," states Anderson. "It is quite an accomplishment and they are well-deserving. We also want to thank the readers for nominating us. We appreciate your support and recognition and we are committed to continuing to provide the best protection for your journey."