Jacobsen Helps Open First Tee Course in Kentucky
Jacobsen Helps Open First Tee Course in Kentucky
Equipment manufacturer donates equipment to 9-hole course in Louisville

Charlotte, N.C. (November 18, 2013) – Jacobsen, a Textron (NYSE: TXT) Company, recently helped open a First Tee youth golf course in Louisville, Kentucky.
Local officials, including Louisville Mayor Greg Fischer were on hand earlier this month to celebrate the opening of the nine-hole course, which is expected to serve hundreds of youths in the Louisville area. The First Tee of Louisville also operates programs at three other Louisville Metro Parks golf courses.
Working with local Jacobsen dealer Wolf Creek Company, Jacobsen donated a GP400 riding greens mower to the new course, a machine that retails for over $40,000.
Initially planned as a three-hole track within Seneca Golf Course, the property was expanded to nine holes as a result of grants from the United Postal Service, local officials and donations including the equipment from Wolf Creek and Jacobsen.
"The equipment donation from Jacobsen and Wolf Creek was a critical part of getting this done and we appreciate their partnership," said Ed Perry, President of The First Tee of Louisville. "The maintenance equipment will help us keep the course in top-notch shape for many years to come."
The First Tee program introduces the game of golf and its inherent value to young people. Designed for ages 5-18, the program uses golf as a platform for cultivating life skills and instilling core values such as respect, confidence, honesty and responsibility.
The new First Tee course in Louisville will also serve as a testing ground for different turf varieties, which could lead to greater efficiencies and cost savings in maintenance and less reliance on chemicals.
Course superintendents will be able to observe how different grass species react to real play conditions and young golfers will be able to sharpen their skills by experiencing a variety of playing surfaces.
"The First Tee of Louisville and Louisville Metro Parks are doing some great things to grow the game and improve the lives of young people," said David Withers, President of Jacobsen. "We're very proud to be part of their initiatives and look forward to helping them succeed."
About Jacobsen
With over 90 years of experience in the turf maintenance industry, Jacobsen has built a legacy of precision craftsmanship, legendary quality of cut and unmatched expertise. Dedicated solely to delivering perfectly groomed turf, Jacobsen equipment is used on some of the finest golf courses, sports fields and other formal turf areas across the United States and the world, through an extensive distribution network and the international Ransomes brand. Additional information about the company can be found at www.jacobsen.com.
About Textron Inc.
Textron Inc. is a multi-industry company that leverages its global network of aircraft, defence, industrial and finance businesses to provide customers with innovative solutions and services. Textron is known around the world for its powerful brands such as Bell Helicopter, Cessna Aircraft Company, Jacobsen, Kautex, Lycoming, E-Z-GO, Greenlee, and Textron Systems. For more information visit: www.textron.com.
For further information please contact:
Adam C. Slick, Jacobsen
11108 Quality Drive, Charlotte, NC 28273
Tel: 704.504.4867 Email: aslick@textron.com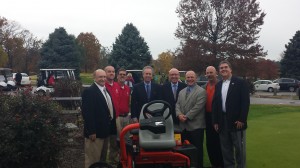 Mayor of Louisville Greg Fischer (fourth from left) joined representatives from The First Tee of Louisville, Louisville Metro Parks, Jacobsen and Wolf Creek Company to celebrate the opening of a new nine-hole youth golf course in Louisville, Kentucky.