Swedish company Huddig to launch HUDDIG Cable solution in USA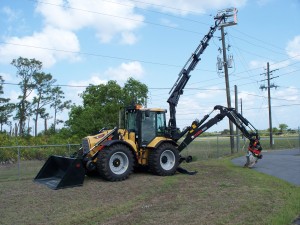 The HUDDIG Cable built for utility work such as line work and cable plowing, will be presented by exclusive dealer Supertrak, at the ICUEE trade show. With a HUDDIG, utility work can be carried out whatever the conditions or terrain and eliminates the need for several machines and people.
For the first time ever, visitors to the exhibition will be able to see the HUDDIG and meet with the experts behind the safe and efficient utility solution.
The unique off-road capabilities of a HUDDIG mean that you can get through any terrain, with its articulated center pivot and large wheels. HUDDIG equipped with HUDDIG Lift, man basket and pole grab means that you can carry out any task needed in connection with line work. Furthermore equipping a HUDDIG with tracks offers a better grip, making it possible to plow cables in both wet and frozen ground.
Huddig have authorized dealers across the world, providing solutions within the City, Cable and Rail areas. It's the perfect opportunity for Huddig to showcase one of their high quality sustainable solutions that has impacted several industries, where safety and efficiency are vital. HUDDIG are available exclusively through Supertrak, who supply a variety of machines, power packs and custom solutions.
The ICUEE International Construction and Utility Equipment Exposition takes place from the 1st to the 3rd of October at the USA Kentucky Exposition Center in Louisville Kentucky. Supertrak and Huddig will be exhibiting in booth #N2049. Over 800 exhibitors will be attending with professionals from over 50 countries.
More information:
Daniel Majgren, Export Manager, Huddig AB
Tel: +46 70 101 69 00, e-mail: daniel.majgren@huddig.se
Dave Evans, National Sales Manager, Supertrak
Cell: 919-935-2595, e-mail: dave.evans@supertrak.com
Press pictures and company information: www.huddig.com
Huddig on Facebook: www.facebook.com/huddig
Huddig on YouTube: www.youtube.com/huddig
Intro film HUDDIG: http://www.youtube.com/watch?v=dBK-5FiTG9A
Huddig AB develops, manufactures and sells ground-breaking, articulated backhoe loaders to improve the efficiency of work within CITY, CABLE and RAIL areas. The company, founded in 1959, is a world leader in its class, in manufacturing articulated backhoe loaders. The customer has a central role in the development of our machinery, as each HUDDIG is uniquely constructed according to the customer's wishes. The winning design concept, superior hydraulics and the highest quality components makes a HUDDIG adaptable, maneuverable and reliable in all climates and conditions. Huddig AB is environmentally certified according to ISO 14001: 2004 and has the quality management certificate ISO 9001:2008. All products are CE marked in accordance with Machinery Directive 2010.