Cut costs, meet environmental goals with green purchasing
From protecting the environment and human health to saving money, a wide gamut of reasons exist for municipalities to "go green" and rethink the purchase of equipment and supplies. Buying recycled products is one type of green purchasing, but many municipalities are taking it a step further and looking at the chemicals in the products they purchase. It's part of a philosophy called green chemistry.
Green chemistry, or sustainable chemistry, encourages the design of products and processes that minimize the use and generation of hazardous substances. Low toxicity paints; LED light bulbs, which don't use mercury; low-toxicity flooring; and low-risk pesticides are all examples of products that follow green chemistry.
"A misconception is that you have to be a chemist (to follow green chemistry) but that's not the case. You just have to follow the certification," said Alicia Culver, director of the Responsible Purchasing Network, an international network of buyers dedicated to socially responsible and environmentally sustainable purchasing.
Certification is clearly labeled on products that have been tested for their safeness and effectiveness. Eco-labels include the Biodegradable Products Institute, Green Seal, Green-e and USDA biobased certified products.
"Local governments can just reference certification when looking at products," Culver said. She noted municipalities of all sizes follow green chemistry practices, albeit larger cities often have more resources available. "Some are tackling it on their own, some in conjunction with states."
Some states offer contracts with green suppliers, which local governments can then sign on to. Other options, like the U.S. Communities Government Purchasing Alliance's Going Green program, also exist to offer local governments green contracts and resources for purchasing green supplies. RPN and the National Associations of Counties, among others, also offer resources.

"Low-toxicity products are about equally priced," Culver said, when compared with their traditional counterparts. "They can even get cost savings when they switch over. Some savings are immediate, some are long term." One long-term saving is the use of LED lights, which are not just energy efficient but also have less-associated disposal costs. Green products are also becoming a standard for major producers, making prices more equivalent.
To get the best deals, local governments should show they are committed. They should also buy in bulk, Culver said. "That's when vendors will give the biggest discounts on products." Of course co-op products are usually already discounted.
"We are definitely seeing a trend of government agencies purchasing less toxic, or certified as less toxic, products. There's more concern over chemicals that can cause asthma among workers and students," she added, noting the increase in asthma and cancer has led officials to not only look at the exterior environment but the interior as well.
Many who have made the switch have noted fewer sicknesses and absences. Culver said occasionally, when she speaks at different events, workers will come up to her and say thank you because some of the chemicals previously used would upset their asthma, making it difficult to work.
Government entities want to protect their workers, which is why it's important to pilot test products.
"Workers need to train and a lot of contracts will require vendors to train workers on the products and equipment," Culver said. She also noted many workers fear they will have to work harder with green products, but often find they work much better than the alternatives.
In Fairfax County, Va., a green purchasing policy was adopted in July 2009. The county is now on the verge of adopting an energy efficiency policy. "It's drafted up but not approved yet," said Chris McGough, of Fairfax County Department of Purchasing and Supply Management. "When applicable, we will be evolving our fleet of electronics and household appliances to Energy Star." So far, the new policy has received favorable feedback.
The current green procurement policy has brought in approximately 40 environmentally conscience contracts to the county, which has approximately 20,400 contracts total. While the number might seem small in comparison, it's a step in the right direction, according to McGough. He noted the county will be moving into a more systematic approach to bring in more green contracts and products. McGough said the county spends approximately $700 million on goods and services and can level its purchase power as an outreach tool to stimulate markets and affect future prices. "It's a big initiative for businesses to provide these things (green products)," McGough said.
Fairfax County uses a decentralized purchasing structure. The department of purchasing and supply management completes all the contracting, while each of the other offices decide what they want to purchase. "Individual people can affect the outcome," said McGough.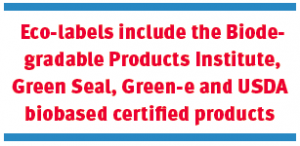 This is why the county's green team — aka Fairfax Employees for Environmental Excellence — promotes education and encourages employees to utilize recycling and green purchasing options. The team blogs to disseminate information and tips, in addition to utilizing strategic communication and special programing to really push the purchase of green products.
"A few months ago we placed a replica green office with products from our green contracts in the main lobby of our main administrative building," said McGough. "You've got to be creative in education."
A major support for the county has been the Metropolitan Washington Council of Governments, is a regional collaboration that consists of representatives of governmental entities in the District of Columbia, suburban Maryland and Northern Virginia. The council offers several committees from climate change to green infrastructure; it also provides a chance for regional environmental professionals to meet and for governments to learn who is using green contracts — an invaluable tool to save money by riding on available contracts.
The county switched from HP printer cartridges to remanufactured cartridges for cost savings of 20–50 percent — roughly $100,000. The switch was done strategically by putting the new cartridges in the hands of the biggest purchasers without telling the workers to see how the transition would go. The number of complaints was on par with the HP cartridges.
LED lighting has been another product to provide environmental and cost-saving benefits. "We just redid our big garage at our main administrative office and installed LED lights. Over the life of LEDs, there is a big savings."
For the county, cost savings and meeting high environmental goals is a major plus of using green purchasing.
"Success is out there," said McGough. "You just need to bring the right minds together and any government can achieve success." He also recommended: "Reach out to the regional collaborative and see what others in the region have done and make a list of contracts."
For more information visit
www.responsiblepurchasing.org
www.gogreencommunities.org
www.naco.org/programs/csd/pages/nacogreenpurchasing.aspx
www.fairfaxcounty.gov/living/environment
Case in Point – Purcellville, VA