An All-Season Multi-Purpose Body: Ideal for municipalities with a desire to 
haul and apply a wide variety of materials.

Municipalities utilize a number of truck body styles and equipment for material hauling and snow & ice control duties. Combination bodies have come closest to delivering a single body style capable of doing it all and being relied upon as an all-season body. Yet, all of these body styles (including combination bodies) encounter limitations of some sort.
Today, Henderson Products, Inc. is proud to introduce the BlackBelt Maxx. Not only is the BlackBelt Maxx a new product, it also ushers in an entirely new class of work truck body, as the first true "Universal Body". Finally, one body style to rule them all.
For decades, Henderson Products has been known as a manufacturer of premium dump bodies, combination bodies and a wide variety of snow and ice control equipment. The BlackBelt Maxx is a shining example of 
the continuous innovation happening at Henderson Products, along with its ability to merge a high level of technology into a single unit.
The BlackBelt Maxx's capabilities include: anti-ice applications, deicing applications, pre-wet applications, salt 
slurry generation, material hauling and high volume material conveying, perfect for feeding asphalt pavers or 
for shouldering projects.
The BlackBelt Maxx goes above and beyond when it comes to material hauling. Materials the unit handles with ease include: salt, sand, gravel, medium sized rock, asphalt, snow, leaves, dirt, ash, mulch and much more.
The BlackBelt Maxx's features include: patented Load Sense Belt Tensioning, 54" wide pure belt design (no chain maintenance), planetary drive system (providing 75% roller-to-belt engagement), low working center of gravity 
(no hoist, avoiding interference with all overhead obstacles), steep 71° sloped side walls (material rests on the floor, not on the side walls), high capacity hopper, high capacity anti-ice liquid tanks, high volume material output, controlled load management and the system is available in 10' to 18' body  lengths.
And finally, the BlackBelt Maxx expands Henderson's growing lineup of GREEN products with its anti-ice applications, deicing applications, pre-wet applications, salt slurry generation, precision material placement 
and multi-tasking capabilities. BlackBelt Maxx, the all-season multi-purpose body.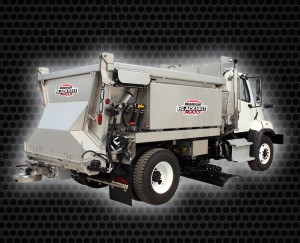 Henderson Products: Leadership in Emerging Truck Equipment Technology
If you'd like more information regarding this topic or to schedule an interview, please contact Brian Evans @ 
(800) 359-4970 or by email bevans@hendersonproducts.com