Petersen Industries, Inc. joins Hardox® In My Body Program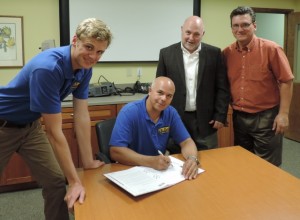 Lake Wales, Florida, July 31, 2013– Petersen Industries, Inc., the waste and recycling industry's leading knuckleboom manufacturer, had an official signing ceremony today to join the Hardox® In My Body Program. The program – which allows members to use the Hardox In My Body logo on their products – is strictly limited to companies with a proven track record of excellence in the use of Hardox to provide superior performance and product life at lower weight.
As a Hardox In My Body member, Petersen Industries, Inc. is permitted to use the "Hardox In My Body" logo on its products. Petersen Industries received this permission only after passing a rigorous application process and technical review with design stipulations. To see how tough Hardox wear plates are and why Petersen Industries is extremely proud of this recent partnership, visit, www.hardoxinmybody.com.
"Casey Hardee and I have always identified the importance of the introduction of new products for our company. Immediately after we became the new owners the desire to use Hardox steel in our products was agreed upon. We are very pleased with each and every one of the benefits the use of Hardox provides to our customers." says Sam Petersen, Vice-President of Petersen Industries.
"Both Hardox and Petersen Industries are proven leaders in our respective industries. It made perfect sense for us to partner together and bring forth the most innovative body design ever to the bulk waste loader market." says Casey Hardee, President of Petersen Industries.
Petersen Industries' dump bodies made with Hardox wear plates are similar in weight to a standard duty body but provide an increased wear life and are designed to stand up to tough loads. Our HDX – Hardox bodies look newer longer and provide smooth sides which are great for advertising purposes. To learn more about Petersen products that can be ordered designed with Hardox wear plates, visit www.petersenind.com.
ABOUT PETERSEN – Petersen Industries, Inc. manufactures equipment for the trash, agricultural, arboricultural, and aggregate markets. Petersen's Lightning Loader®
grapple truck is used by over 1,000 cities and counties nationwide, and by most major waste companies.
In the mid 1970's Petersen designed a knuckleboom that could be used for loading bulky trash. The result was a trash loader concept that has been improved and refined over the years. With the exception of 3 or 4 purchased items, Petersen manufactures all other major components, including most hydraulic cylinders. With complete CNC machining capabilities and fabrication facilities, Petersen is able to control every aspect of schedule and quality control. For more information on Petersen's diverse product line, visit www.petersenind.com.
About Hardox In My Body – The Hardox In My Body logo verifies that the product is manufactured using Hardox wear plate. Leading manufactures that meet SSAB's quality requirements are granted licenses to put the Hardox In My Body logo on their products. These companies fully understand the advantages of Hardox and continuously use them in their product development.
About Hardox – This versatile wear plate increases payload and service life in tough environments. Its combination of strength, hardness and toughness make it extremely wear-resistant, and its workshop friendliness cuts production costs.
About SSAB – SSAB is a global leader in value added, high strength steel. SSAB offers products developed in close cooperation with its customers to create a stronger, lighter and more sustainable world. SSAB has employees in over 45 countries and operates production facilities in Sweden and the US. SSAB is listed on the NASDAQ OMX Nordic Exchange, Stockholm.
Contact:
Sarah Bryant, Marketing Director
Petersen Industries, Inc.
863-676-1493 x 227
www.petersenind.com