New Fastway® Product Keeps Trailer Ball Greased
Provo, Utah – June 17, 2013 – Fastway Trailer Products introduces a tethered ball cover that keeps grease on the ball and off of clothes. Unlike other ball covers, the Fastway tethered ball cover conveniently stays with the hitch ball while towing and is ready to use when it's time to store the trailer. The Fastway tethered ball cover makes storing a trailer faster and easier. Two different models are available: one for a 2″ ball, and one for a 2-5/16″ ball.
"Losing your ball cover is a messy hassle," said Progress Mfg. Sales Manager, Rich Elliott. "The Fastway tethered ball cover is a simple way to protect the grease on your ball without misplacing it."
The new Fastway tethered ball cover is currently available through dealerships serving the towing industry throughout the United States and Canada.
Part info:
82-00-3220 2" Ball Cover with Tether $5.95 (MSRP)
82-00-3216 2 – 5/16" Ball Cover with Tether $5.95 (MSRP)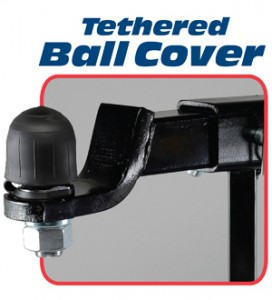 About Fastway Trailer Products
Fastway Trailer Products is located in Provo, UT and specializes in faster and easier towing products such as the Flip automatic jack foot, ONEstep™ wheel chock, Zip™ breakaway cable and the e2 weight distribution hitch with built-in sway control.  Their products are no stranger to the spotlight; having been recognized by high profile entities like the Specialty Equipment Market Association (SEMA) and Popular Mechanics magazine.  For more information about Fastway Trailer Products visit www.FastwayTrailer.com