Introducing the New Generation of MAHA USA Mobile Column Lifts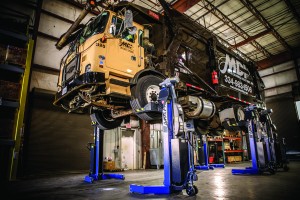 MAHA USA announces the introduction of the MCL 12 and MCL 15 to their series of Mobile Column Lifts, accompanied by the redesign of the MCL 16 and MCL 18. Proudly made in the USA, the company says their mobile column lifts are engineered to accelerate maintenance activities with a flexible system that creates a more open, productive and accessible work space. "This expansion represents innovation and growth, emphasizing technological developments and a problem-solving approach to meet the ever-changing market conditions," says Juergen Werner, Vice President of Sales and Marketing.
MAHA USA's addition of the MCL 12 gives users a lighter capacity mobile lift option. Lifting 12,000 lbs per column, the MCL 12 is a cost effective solution for lighter duty maintenance facilities that are in need of a larger capacity lift to service medium duty trucks and vans.
The MCL 12 is also the only model in MAHA USA's MCL series to exclusively offer an Extra-Wide Universal Carriage. This unique carriage was designed specifically for agriculture and farming vehicles and engages tires measuring up to a whopping 79" in diameter.
The new MCL 15 holds 15,000 pounds per column and features a 20 inch fork length with an extended base. This longer fork length allows the option to lift dual tire assemblies while completely engaging the surface of both tires!
According to MAHA USA, all MCL base frames have been redesigned. "Each base frame now features a lower profile and longer leg structure. This modification increases the column's stability and allows engaging low clearance vehicles, such as city buses, much easier," states Werner.
MAHA USA also notes that their MCL 16 is now equipped with 16" long standard forks and is capable of engaging super-single tires better than any other standard length carriage on the market. Updates to the MCL 16 include an increased carriage width, giving users the ability to engage wider tire diameters.