TURBO FILTRATION'S POWERRAM TURBO(r) PRECLEANER PROTECTS ENGINES WHILE BOOSTING FUEL EFFICIENCY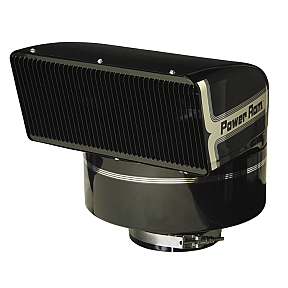 CLEVELAND, Ohio – turbo Filtration's turbo(r) Precleaner PowerRam is the right choice for large machines operating in severe-duty environments. With its innovative directional scoop and its wide-angled air intake, the PowerRam improves engine performance by reducing air-intake restriction and delivering more air to the engine at highway speeds, boosting fuel efficiency.
In addition, the PowerRam features a louvered screen, which prevents plugging from snow and ice build-up at high speeds, extending filter life by removing dirt and dirt particles along with debris in rain and snow from intake air. It also protects against the re-entry of sooty exhaust air into air-intake
"Designed with rugged yet light-weight metal construction, the PowerRam is tough enough to weather the elements, and is designed with an durable powder coat finish to guard against rust, chemical attack and corrosion," said Tracy Long, turbo Filtration's director of business development. "The PowerRam also offers a number of reducers to enable configuration to your specific application."
turbo Filtration's PowerRam is designed to meet the performance needs of machines requiring airflow between the 400 and 1500 cfm. This makes it well-suited for the heavy demands of the logging, agriculture, mining, steel and construction industries, and excels in coal pushing dozers, articulated dump trucks, concrete mixers, chippers, tub-grinders, mulch machines and older cab-over-trucks still in service.
The turbo Precleaner line is uniquely designed for high quality and efficiency.  Unlike other precleaners that typically use "reverse axial" designs, the turbo brand employs a straight-through air flow path. This means dirty incoming air enters the top of the unit and flows directly into guide vanes. The air is directed into a high-velocity air-powered rotor chamber, which is powered by the machine's engine and is rotating at about 5,000 rpm. There, engineered blades create centrifugal force, spinning out of the unit through special discharge ports more than 85 percent of contaminants, some as small as 1 micron, including dust, dirt, insects and moisture, ultimately allowing only purified air into the machinery.
With reverse axial designs, dirty air enters the bottom of the Precleaner where it must make a U-turn, restricting the air flow and robbing the engine of power. Higher restriction means filters don't last as long, engines don't work as efficiently and equipment generally requires more maintenance.
With the ability to be configured directionally, as well as its distinctive features and appearance, the PowerRam fills a need with design engineers searching for innovative solutions handling various types of debris in a plethora of applications and equipment.
turbo Filtration, a division of the Dreison International Company, is a diversified Cleveland-based manufacturer of innovative original equipment and aftermarket fan and filtration parts and equipment for transportation machinery and heavy equipment. turbo Filtration designs and engineers products for the construction, mining, oil and gas, military and marine markets, as well as many others. Growing organically through acquisitions that strengthen its core competencies, turbo Filtration's capabilities include comprehensive in-house and third party testing, hands-on customer support and custom-engineered solutions that strengthen efficiencies and reduce operational cost around the world. For more information about turbo Precleaners, visit www.turboprecleaner.com, call 1-800-537-7444 or email at sales@turboprecleaner.com.