Green industry responds positively to new Avant loaders
Elk Grove Village, Illinois, November 14, 2012 — Avant Tecno USA made its debut at the GIE+Expo last month in Louisville, KY, to an overwhelmingly positive response from dealers, green industry professionals, and media. During two days of exhibiting, more than two hundred people made their way through the Avant USA booths, including several who are interested in becoming dealers of the Avant compact loaders in the U.S. At some points during the event, attendees were lined up waiting to talk to Avant representatives at the indoor booth and to test drive the machines in the outdoor demonstration area. Those who had the chance to operate the Avant compact loaders loved how easy it was to drive and were impressed with the unique, modern design and new technology.
"We heard from several attendees that Avant was the only new product/concept being presented at the expo," said Jukka Lyly-Yrjanainen, President of Avant Tecno USA. "People immediately understood the benefits of the Avant technology and concept—the low impact on turf, ease of operation, and ability to use one machine for many jobs."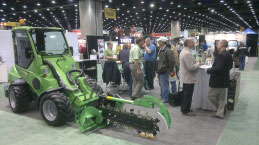 Avant loaders stand out from the competition because they offer an articulated design and hydrostatic 4-wheel drive, as well as the 100+ attachments. People at GIE+Expo were impressed by the great visibility, telescopic boom, and the fact that the machines are light and agile, while still being powerful.
"People in green industries really appreciate the low turf impact of our machines, because they are able to avoid spending a lot of time, effort, and money protecting the turf before a job, as well as repairing damage afterwards," Lyly-Yrjanainen added. "They were excited about the multi-use aspect of the Avant loaders, since it would allow them to have a smaller fleet with higher usage per unit."
Avant is planning for more industry-specific events in 2013 and is looking forward to introducing their machines to thousands of other people across the country. There are several videos on the Avant USA YouTube channel that show the machines in action with a variety of attachments. Anyone interested in learning more about the machines can visit www.AvantTecnoUSA.com or call 847-380-9822.
Avant Tecno Corporation was founded in 1991. Since then it has produced many innovative solutions in the field of multi-functional loaders and attachments. Product development coupled with a commitment to superior engineering has always been and will be one of the most important factors in Avant's success. Manufacturing, product development, sales and marketing are located in Ylöjärvi, Finland. In addition, Avant has its own subsidiary sales offices in Germany, UK, and now in the USA. Elsewhere in the world, Avants are sold through a competent and comprehensive importer-dealer network to over 40 countries. Here in North America, Avant products are available through Avant Tecno USA and our growing dealer network.