SHERWIN-WILLIAMS AUTOMOTIVE FINISHES GENESIS® G4 SYSTEM FEATURED IN NEW SWIFT TRANSPORTATION VIDEO
Genesis® G4 Basecoat is a Two-component Urethane Coating that Provides Superior Performance to Meet Fleet Facility's Needs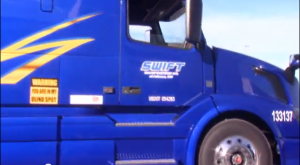 Cleveland, OH – A new video featuring behind-the-scenes fleet facility repair work at SWIFT Transportation is now available on the Genesis® Product Website: http://genesis.sherwin-automotive.com/home/. Entitled "You want a premium basecoat designed for superior performance?" the new video showcases an interview with SWIFT's maintenance director and shows actual repair applications featuring the Genesis® G4 system by Sherwin-Williams Automotive Finishes.
One of the largest fleet freight haulers in the country, SWIFT Transportation, headquartered in Phoenix, operates in 48 states and Canada and Mexico. It has four body shops and 450 body shop employees nationwide, according to Art Castillo, SWIFT Body Shop Regional Director. "We have 16,000 power units and are in the business of repairing our own equipment. That means we want to portray a safe and professional image at all times."
"The paint systems we use we demand a lot of speed out of them. That's why we use the Sherwin-Williams Genesis® G4 system," adds Castillo. "The G4's color match and repairability, is so far ahead of any competitive system out there, it's unbelievable."
"Our Genesis® primers and topcoats offer outstanding performance and appearance. These products deliver productivity and profitability and are a complete solution for their fleet and manufacturing needs," says Dan Szczepanik, Sherwin-Williams OE/Commercial Products Manager.
Genesis® G4 Basecoat System is formulated for outstanding performance to meet rigourous OEM standards and enhanced color match capability, including OEM colors for fleets, trucks, specialty vehicles and manufacturing equipment. It is a premium-quality, two-component, 3.5 lbs. per gallon VOC-compliant urethane basecoat that delivers excellent appearance with durability and superior flexibility. It features fast dry times resulting in more rapid paint production for painters to complete more vehicles.
For more information about Sherwin-Williams Genesis® Fleet Finishes, go to http://genesis.sherwin-automotive.com/home/ or call 1-800-798-5872