Upscale and convenient temporary housing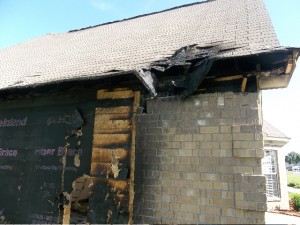 When natural disasters strike communities, one of the challenges to recovery is a displaced population.
One way residents can stay in the area and on or close to their property is by leasing a portable home. That's where Tennessee-based Southwest National Housing Agency comes in, offering upscale, furnished homes that can be drop shipped anywhere in the United States.
Through Southwest National Housing Agency, communities ravaged by fire, flood, or tornadoes can quickly provide alternative accommodations in as little as 72 hours, so residents barely miss a beat getting back to work and rebuilding their lives.
The company prides itself on excellence, professionalism and responsiveness.
"If you've been burned out or whatever happens, call us and it just shows up — complete with everything you need right away," said employee Darryl Cooley. "Tables, chairs, beds, shampoo in the bathroom — we give you all of it so you can be at home right away." Unlike low-budget shelters, Southwest homes can even come with, for example, a computer or multiple phone lines if, say, a client works from home.
If a homeowner has insurance, the usual procedure is for him to contact his insurance company, which will typically pay for temporary housing. Then the homeowner contacts Southwest and a home is put on the road immediately.
Southwest National Housing Agency also works with municipalities that want to provide temporary housing for employees, and they work with individuals who need a place to stay while voluntary renovations are being done on their primary residence.
"We have the resources to move a large group of people quickly. You can call us and say, "There's been some fires and we need to put 30 people in a hotel for three months.' We have the connections and the resources to get that done quickly, for one price," said Vice-President Mario Allen.
Another service that Southwest offers municipalities is the ability to coordinate the relocation of residents from one area to another. If a public housing property is being renovated or torn down and 200 people need to live somewhere else temporarily or permanently, Southwest will help residents utilize the voucher system to secure new housing and even helps pack up and transport their belongings.
"I don't think people realize that we can work with any schedule and any budget, Allen said.
The company's responsiveness to its customers has earned it an A+ rating from the Better Business Bureau, and that's an honor that Mario and President Claudia Allen value.
"We understand the sensitivity of people who are going through chaos. Their lives have been interrupted by tragedy. Our staff knows what to ask and even what not to ask, and how to be understanding," Mario said.
While their immediate needs are being taken care, Southwest's sister company in Memphis can rebuild victims' permanent homes. Tennessee Home Defense construction company, established in 1997, performs every type of construction from minor repairs to water, fire damage and tornado damage — even complete reconstructions. THD demolishes and removes debris, if necessary, and begins building from the ground up immediately. The company is a member of the local Better Business Bureau, and will direct bill to insurance on behalf of their clients.
"We're here for you 24 hours a day, seven days a week, around the clock," Cooley said. "Just give us a call."
Information provided by Southwest Housing Agency and Tennessee Home Defense.