Get ready for the No-Dig Show
Public works professionals are the stewards of a municipality's infrastructure, taxed with ensuring that the roads, bridges and underground utilities are maintained at the highest standards using the most cost-effective and minimally evasive means available.
Critical to the strength of any municipality is the quality and condition of its underground infrastructure. As it continues to age and be used beyond its expected lifespan, municipalities are turning to trenchless technology to meet the challenge of keeping those critical water and sewer lines operating.
Every year professionals from across North America gather to share the latest trenchless research and products, presenting cities and public works officials with the perfect opportunity to learn how this innovative and necessary technology will benefit their municipality. NASTT's 2013 No-Dig Show will bring the trenchless community together in Sacramento, Calif., March 3-7 at the Sacramento Convention Center.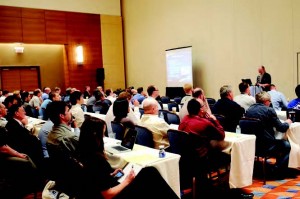 Founded in 1990, the North American Society for Trenchless Technology is a nonprofit, educational and technical society that is dedicated to promoting the benefits of trenchless technology for public awareness through education, training, publishing and research. NASTT is North America's definitive resource for trenchless solutions to aging underground infrastructure and is a link to thousands of trenchless professionals and leaders working at the regional, national and international levels.
NASTT's No-Dig Show is the largest tradeshow in North America in which utility professionals attend to learn new methods and techniques that will save money and improve infrastructure — with minimum disruption to the community. NASTT's No-Dig Show provides attendees the opportunity to learn everything about trenchless technology through its high-quality technical sessions, fun networking events and cutting-edge technology displayed in the exhibit hall where attendees can talk to over 130 vendors and trenchless experts.
"This is really the one infrastructure event that municipal leaders need to attend," says NASTT Executive Director Mike Willmets, who himself served in infrastructure management for more than 30 years with the City of Ottawa, Canada, before taking the reins of NASTT in 2008. "NASTT's No-Dig Show is by far the definitive resource for learning about trenchless technology and how it can benefit a municipality's needs and provide solutions to its underground infrastructure challenges."
The technical paper program has been the cornerstone of every NASTT's No-Dig Show since its inception in 1991 and sets the standard by which other conferences hope to achieve. Each paper is peer-reviewed by the NASTT Program Committee to ensure the highest level of information without the hint of commercialism. This year, the technical program features more than 150 educational and high-caliber technical papers in a six-track format that run the gamut of trenchless information. Pre- and post-conference seminars are also on the schedule for attendees who wish to have more in-depth training on a particular trenchless topic.
Although the No-Dig Show is the conduit to promote and advance the trenchless marketplace through education and exhibits, there's also a social aspect of the conference that fosters networking opportunities for attendees.
On Monday, March 4, the conference gets under way with NASTT's No-Dig Show kick-off breakfast and entertainment where the industry will honor the 2012 Outstanding Papers in Rehabilitation and New Installations. Also held on the first day of the conference is NASTT's 11th Annual Educational Fund Auction, which raises funds to support educational initiatives including scholarships, research and targeted training courses.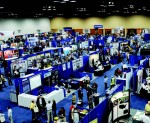 On March 5, NASTT will host its No-Dig Show Gala Awards Dinner. During this popular event, the trenchless community gathers for a night of fun, food and entertainment. NASTT's Hall of Fame induction also takes place during the gala dinner. To close out NASTT's 2013 No-Dig Show, the closing luncheon and keynote address takes place on Wednesday, March 6.
Registration is now available to participate in North America's premiere trenchless event. For more information about NASTT's 2013 No-Dig Show and to register, visit www.nodigshow.com.
Information provided by NASTT.