Handle event trash and recycling efficiently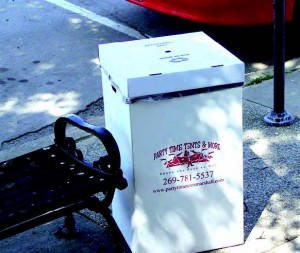 Every city event, large or small, will accumulate trash and recycling. The TTC System offers a cost effective and efficient means of accommodating those needs.
The TTC System was developed for our party rental company in Marshall, Mich., 15 years ago. After years of renting traditional trash cans, we found that cleaning out customers' garbage after events and taking the time to sanitize the product was neither pleasant nor productive. We soon realized that there must be a more efficient way of handling these needs for our customers. From this idea, the TTC System was born. After years of success within our company and positive feedback from our customers, we developed our wholesale business six years ago and began selling the product nationwide. Today we supply our product to customers in all 50 states to be used in a wide variety of industries.
There are many benefits to using the TTC System for your city events over traditional garbage cans. Using the eco-friendly trash and recycling box allows your city to promote a green event. The product ships flat, making it easy to store and transport to the event site. The one of a kind Snap Lock Bottom allows the product to be assembled within seconds. The TTC System includes a multifunction lid. This feature allows you to deal with trash and recycling from the event using the same product. Additionally, the TTC System can be disposed of or recycled after the event. This eliminates sanitizing and storing garbage cans and helps speed up the cleanup process. The product also includes a color stick-on label that allows you to customize the container to promote your city or event.
The TTC System is shipped flat on a pallet in quantities of 125 containers. This allows for easy storage and transportation to the event site. All orders include the container bottom, the multi-function lid; a 55-gallon liner bag for each container and a customizable color stick-on label. Shipping is also included with all orders.
To place an order or for additional information, please contact us today at (888) 229-0103. You can also find us online at www.supplyyourparty.com.