Park gyms score big with adults
Playgrounds aren't just for kids any more. Adult playgrounds with exercise equipment, also known as fitness zones, are popping up in cities across the U.S. and getting rave reviews. Springfield, Ohio, at the forefront of this trend, installed one a year ago at a park on the lakefront.
"I found an article in the London Times about an outdoor exercise park for seniors in Hyde Park and thought it sounded interesting," says Bobby Dinkins, director of Springfield Township's Senior and Community Center. "They are popular in Europe and Asia but just starting to appear in the United States."
The appeal of adult playgrounds is that they are outdoors and free to the public. "Let's face it, most of us dread going to the gym," said Dr. David Ludwig, a Harvard Medical School professor who directs the Obesity Prevention Center at Boston Children's Hospital. "The point is to make physical activity fun, easy and accessible, so it's the normal thing to do." While adult playgrounds for any age are starting to be built in major cities, such as New York and Los Angeles, Springfield's Outdoor Adult Exercise Park was built specifically with seniors in mind. "We focused on equipment that promotes increased flexibility, muscle strengthening and fall prevention," says Dinkins.
With the help from a Community Development Block Grant through Summit County, Springfield was able to acquire and install eight pieces of equipment. This includes a cycle trainer, where seniors can sit and pedal as they would on a bike, a free runner to stand on and move your legs back and forth, an upper-body trainer for pull-ups, a situp bench, leg lift station and more.
Dinkins says he has had many calls from other cities that are interested in installing an outdoor playground. "I definitely think we will see more built in the next few years," he says.
James Sargen, founder of TriActive America, a company that provides and installs outdoor fitness equipment, agrees. "Traditionally, adults take kids to playgrounds and sit and watch. We are trying to reverse the sedentary lifestyle that contributes to our country's obesity problem."
A former city manager, he's familiar with the role of municipalities.
"Local government is the heart of the community and needs to take care of its people. Towns invest in senior centers, and homeless shelters. This is just one more way to provide a quality service to improve the lives of citizens."
The good news for cities is that adult equipment is significantly less expensive than children's playground equipment and is modular, which means it can be easily moved to a new location.
Sargen adds, "I always see adults smiling while using the fitness zones. Nobody is ever smiling at the gym. Everybody is tuned out with their earphones plugged in and a grimace on their face. There's something about being outdoors while exercising that is much more appealing."
Adult playgrounds are growing and evolving based on the community's needs, even with mom-friendly equipment that specifically targets mothers.
Two women in Washington created Momentum, a grassroots organization that raises money to build playgrounds for moms with a child's play area also after realizing the struggles moms face to fit exercise into their busy schedules. The outdoor gym has low-impact cardio equipment and strengthening machines that focus on the areas moms care about most — arms, abs, hips and thighs.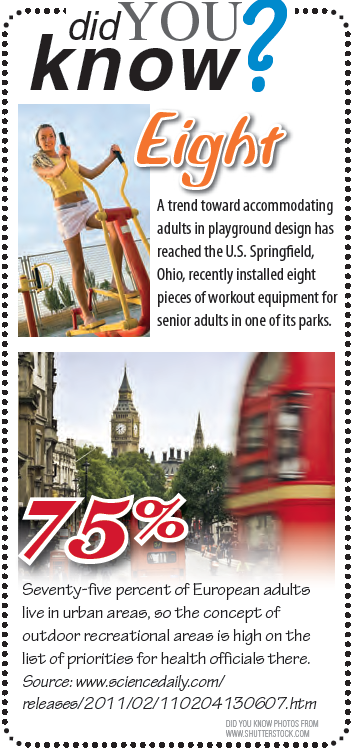 "This is a win-win situation for everybody," says Kelly Singer, co-founder of Momentum. "You can work out while watching your kids and hanging out with friends. We believe healthy moms raise healthy kids, and it is important to show your kids by example how to be active and fit."
"Obesity is the leading health problem in America," says Paige Green Dunn, also the co-founder of Momentum. "We decided to not just sit back and wait for the government to do something. As citizens we can make a difference and give back to the community."
Momentum outdoor gyms require no electricity and every product is ecofriendly and powered by people. Singer and Dunn get calls from all over the world asking them for advice on how to put these into communities. Their website, www.momentumeverywhere.org, contains information about their project as they continue to raise money and find ways to create more mom-friendly outdoor gyms.