Multi-purpose dust mask provides protection for law enforcement, fire departments
In 2009 Steve Torbenson invented the RZ Mask — a comfortable mask equipped with an N99 Filter to protect against the smallest of dust particulates.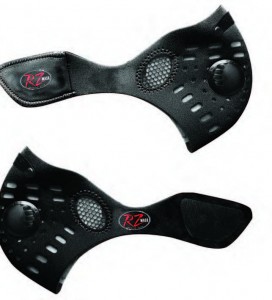 While the mask was originally created to protect his four sons while riding motocross, it caught so much attention on the trails and at the track that Torbenson decided to begin marketing the mask. Since the product launch in 2010, the RZ Mask has spread to over 40 different industries and is sold in over 30 countries around the world.
The RZ Mask is composed of neoprene material similar to that of a wetsuit. It's equipped with an N99 active carbon filter that has been laboratory tested to filtrate up to 99.9 percent of particulates as small as smoke. The activated carbon within the filters allows for absorption of odors and fumes, which makes the mask useful to those within law enforcement.
"We have provided the RZ Mask to border patrol agents looking to protect from dust and odors. We even had a penitentiary guard wear the mask for pepper spray protection," Torbenson said. The RZ Mask has also seen use within all-terrain vehicle police units and bike patrol units, which appreciate RZ Mask for its ability to filter out dust, pollution and allergens.
The mask has been supplied to over 50 fire departments around the country for use in wildfire fighting, clean up and light smoke protection. With its comfortable and adjustable fit, the RZ Mask comes in three sizes: Youth, regular and extra large.
The RZ Mask is priced at an affordable $29.95. Group discounts are available for orders placed over the phone. Each mask comes with a filter already installed, a replacement filter and a carrying case. Purchase the mask at RZMask.com or over the phone at (888) 777-9422.
Information provided by Dan Weinberger, RZ Mask LLC.