Vocational vehicle mileage: On the fast track
Manufacturers, federal government aim high.
Manufacturers of medium and large trucks have reportedly wanted the federal government to mandate increased fuel efficiency for years. In August President Obama responded, establishing the first ever federal large- and medium-truck fuel efficiency regulations.
During a keynote speech at the annual NTEA Work Truck Show in Indianapolis in April, U.S. Secretary of Energy Steven Chu told manufacturers and buyers that the new regulations will contribute to an overall reduction in the country's dependence on oil. The energy department collaborated with the administration to create the new fuel efficiency standards, which will be achieved via the integration of compressed natural gas technology and gas fuel engines, the elimination of dedicated gas engines to power salt and sand spreaders, the development of electric three-quarter ton vans, and wider applications of urea systems and hybrid technology.
Because most of the relevant technology has existed for years, it's already being incorporated into productions lines.
Vocational vehicles — including delivery trucks, buses and garbage trucks — will be required to reduce fuel consumption and greenhouse gas emissions by approximately 10 percent by model year 2018. These trucks could save an average of one gallon of fuel for every 100 miles traveled.
According to the U.S. Department of Transportation, 70 percent of petroleum use in the U.S. in 2010, as well as nearly one-third of greenhouse gas emissions, are attributed to transportation. The largest pick-up trucks and vans, vocational trucks, semi trucks, and all types and sizes of work trucks and buses make up the transportation segment's second largest contributor to oil consumption and greenhouse gas emissions.
During the process of formulating the new regulations, the National Highway Traffic Safety Administration's and the Environmental Protection Agency's analyses indicated that the combined proposed standards have the potential to reduce GHG emissions by nearly 250 million metric tons and save approximately 500 million barrels of oil over the life of vehicles sold from 2014 to 2018.
Overall, the EPA and NHTSA estimate that the heavy-duty national program will cost the truck manufacturing industry approximately $7.7 billion and generate total societal benefits of $49 billion. It's also projected to provide $41 billion in net benefits as a result of the standards over the lifetimes of model year 2014-2018 vehicles, discounted at three percent.
While the majority of vehicles would see a payback period of one to two years, others, especially those with lower annual miles, would experience payback periods of four to five years. For example, the operator of a semi truck could pay for the technology upgrades in under a year and have net savings up to $74,000 over the truck's useful life.
Chu further predicted that advances in truck design, specifically in modeling, testing and research will keep the price increase of trucks featuring the new technology to a reasonable two-year payback period.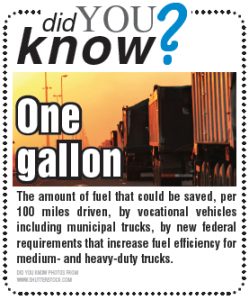 Under the regulations, "heavy duty" on-road vehicles are defined as those rated at a gross vehicle weight at or above 8,500 pounds. The engines that power them also fall under the mandate — except those covered by the current GHG emissions and Corporate Average Fuel Economy standards for model years 2012-2016. Heavy-duty vehicles include both work trucks and commercial medium and heavy-duty on-highway vehicles as defined by the Energy Independence and Security Act.
Heavy-duty engines affected by the proposed standards would generally be those that are installed in commercial medium- and heavy-duty trucks and buses, including utility, fire trucks, snowplows and ambulances.