Aladtec to Showcase Online Workforce Management Software at PACE 2017
Canada's premier event for Paramedic personnel, drawing attendees from coast to coast.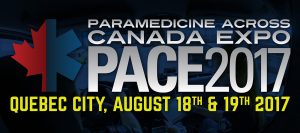 August 9, 2017 – Quebec City, Quebec, Canada – The Paramedicine Across Canada Expo (PACE) 2017 takes place to offer front-line paramedics from all practice settings an opportunity to learn, network and explore products and services for the emergency medicine sector.
First-time exhibitor Aladtec (booth #215), from the United States, will be demonstrating their popular Public Safety software. Aladtec is an online employee scheduling and workforce management system.  Public Safety agencies often need to manage shifts for both fulltime and part time staff members.  Aladtec easily deals with complex 24/7 schedule rotations, minimum staffing parameters, and tracking certifications/licensing.
The Aladtec system is a robust all-in-one workforce management tool. It's available 24/7 from any computer, smartphone, or other mobile device via the Internet. The scheduling component offers key features and benefits – including allowing members to submit availability, request time off, and make shift trades online. There's document storage, a member discussion area, customizable reports, and an optional Time Clock kiosk.  Also, through Aladtec's Forms feature – customers can create, submit, review and maintain forms online. You can go green with this customizable forms system with advanced workflow functionality.
Aladtec helps agencies improve efficiency, save a tremendous amount of time, control overtime, improve employee morale and reduce human error.  Over 118,000 people from more than 1,900 organizations subscribe to Aladtec's online employee scheduling and workforce management software system throughout North America.
During PACE 2017 Aladtec will meet with many of their customers and provide guided system demonstrations to prospective customers.  These agencies will be invited to sign up for a no cost 14-day Aladtec demo at their booth (#215).
Supporting Quotes from Aladtec Customers:
"I am grateful for this scheduler – I don't want to go back to our old system ever."
-Stew Schmidt, Manager Muskwachees Ambulance Authority, Hobbema, Alberta
"We find that the time accrual feature helps us a great deal to keep track of vacation and sick time. We also discovered that the ability to track expiration dates for training, licenses, and certifications is invaluable."
-Dennis Virtue, Supervisor & Systems Designer, University Health Network, Toronto
"To be honest I can't imagine what we would do without Aladtec for our staff scheduling and workforce management, I know my job would be a lot more difficult without it."
-Erin Iker, Operations Supervisor – Scheduling, Associated Ambulance, Alberta
"I estimate we're saving about 100 hours a month by using Aladtec for staff scheduling and workforce management."
-Landon Churchill, Engineer/EMT, Colorado River Fire Rescue, Rifle, Colorado
"We've been able to cut our overtime costs by about around 30% since we began using Aladtec."
-Matt Leicester, former EMS Captain, Johnston County EMS, Smithfield, North Carolina
About Aladtec: They proudly provide online employee scheduling and workforce management software to over 1,900 organizations, primarily within the Public Safety Sector. These customers count on Aladtec every day to help them save time and improve efficiency.  For information about their affordable industry specific options, or to try a free demo, please visit www.aladtec.com.