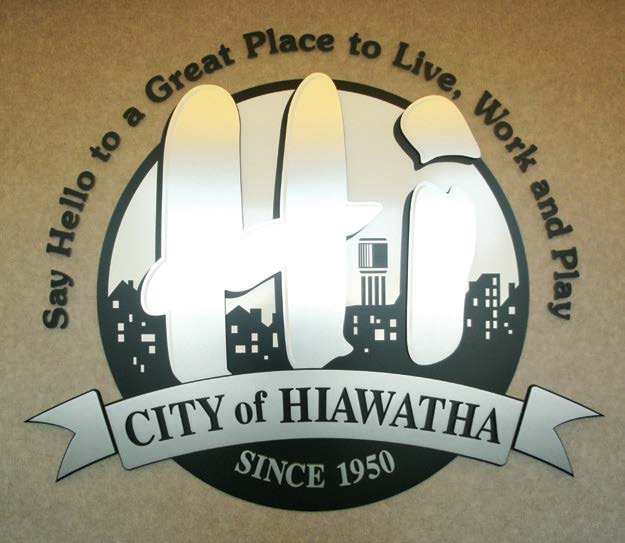 Not every town has its greeting conveniently baked into its name.
But the founders of Hiawatha, Iowa, population 7,212, took advantage of the city's first syllable and crafted it into the city seal.
"Hi" hallmarks the spirit of the friendly town 6 miles north of Cedar Rapids.
Hiawatha is a relative newcomer to municipalities, having been incorporated in 1950, four years after founder Fay Clark "looked out onto farm fields and had a vision of houses and a highway running through a new city."
Clark, a Wisconsin transplant who had lived for two years as a teenager with Chief Red Cloud and the Winnebago Indians, had graduated from the University of Wisconsin with an architectural engineering degree.
Once he experienced his epiphany, he said, "nothing could stop me and I knew I would be a part of it."
He certainly was. Clark was instrumental in getting 45 other signatures on a petition to become Linn County's 17th incorporated municipality, named after his Hiawatha Trailer Company, which he started in a Quonset building on an 11-acre parcel just west of today's downtown area.
His 20-acre trailer court across the road housed some of the first residents of the new town.
He and his first wife, Adeline, who died in 1961, assisted veterans in obtaining homes after Word War II.
Clark helped establish the Linn County Fire Association to provide fire protection to nearby rural communities; served as Hiawatha's first mayor from 1950 to 1958 and later from 1961 to 1963; and served for a time as the local justice of the peace.
Scrupulously humble throughout his life, Clark "did not take credit for this city," said former mayor and council member Tom Theis, "but I don't know who else the credit would go to."
Theis also said Clark did not want his two sons to spotlight his role in founding and building Hiawatha.
Clark was "a quiet person and a good listener," said Bev Daws, a Hiawatha resident since 1951 who maintained Clark's docket during his tenure on the bench.
He had an unconventional side to him as well. He wrote three books on astral projection and parapsychology and photographed people's auras as a hobby.
Clark died in 1991 at the age of 84, but his legacy lives on in the friendly and attentive spirit of Hiawatha.
For more information, visit www.hiawatha-iowa.com.