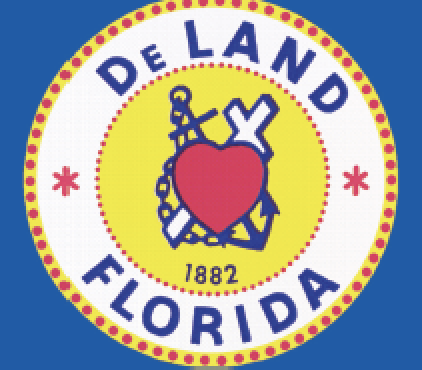 When DeLand, Fla., founders Henry DeLand and John Stetson crafted the city's seal in 1882, little could they have imagined the ruckus they would cause more than a century later.
The two devout Baptist men included a cross, anchor and heart in the center of the seal, respectively representing faith, hope and charity, a trinity of character traits they saw in the good people of the burgeoning village.
The triplet of values is taken from 1 Corinthians 13:13: "And now abideth faith, hope, charity, these three; but the greatest of these is charity." Th e heart, representing "the greatest" of the three, is at the forefront of the overlapping symbols.
Therein lies the problem, according to the local Florida chapter of Americans Untied for Separation of Church and State.
In an August 2013 letter to the city of 27,031, the group contended the seal violated the Establishment Clause of the U.S. Constitution, alleging the symbols "are widely understood to symbolize the Christian 'theological virtues' discussed by Paul the Apostle."
City attorney Darren Elkind replied the seal was not meant to suggest any religious theme but was created as a testament to Henry DeLand's status as founder.
"Nothing in the history of the city's seal suggests that it was adopted to promote any particular religion or even religion in general," wrote Elkind.
In an interview with The Christian Post, Elkind said the founders' vision was "to establish this city as a place of education and culture" that would "charitably help others to help themselves. It was simply fortuitous that the symbol happened to be a Christian one."
Luke Goodrich, an attorney with the Becket Fund for Religious Liberty, a Washington, D.C.-based nonprofi t, explained:
"The Supreme Court has never adopted a very clear standard for resolving cases like this one. It is very difficult to predict how the court will come out and it ends up depending on the subjective predilections of the judge."
Goodrich cited the age of the seal and the prominence and exclusivity of the alleged religious symbols as signal factors in judicial determinations.
Mathew Staver, founder of the Liberty Counsel, said, "You would obviously think that if it was an establishment of religion, it surely would have established one by now. And I know of no established religion in the city of Deland."
No further action has been taken in the dispute and for now the seal will stay put as is, with the city determined to defend any further challenges to its propriety.