Top Ten Minor League Baseball ballpark rankings
The 2016 Minor League Baseball season is underway. The teams have emerged ready to impress, and fans are already bringing the love to their hometown hopefuls.
Besides being the training ground of America's pastime, Minor League Baseball stadiums are darlings of economic development. Among the cities where teams are located, those that have upgraded their facilities regularly and realized residential, culinary, retail and entertainment-related development in proximity, have reaped the rewards. It all starts with the park.
Last fall www.stadiumjourney.com writer Paul Swaney and other site correspondents chimed in on their picks for MiLB stadiums that appeal to a wide range of fans. As Swaney noted, "A big part of the draw to a minor league ballpark is the overall experience of attending a game."
Stadiumjourney.com's ranking includes the food and beverage options, overall atmosphere, neighborhood around the park, fans, the return on investment and a reader score. That said, the top ten MLB ballparks of
2015 were: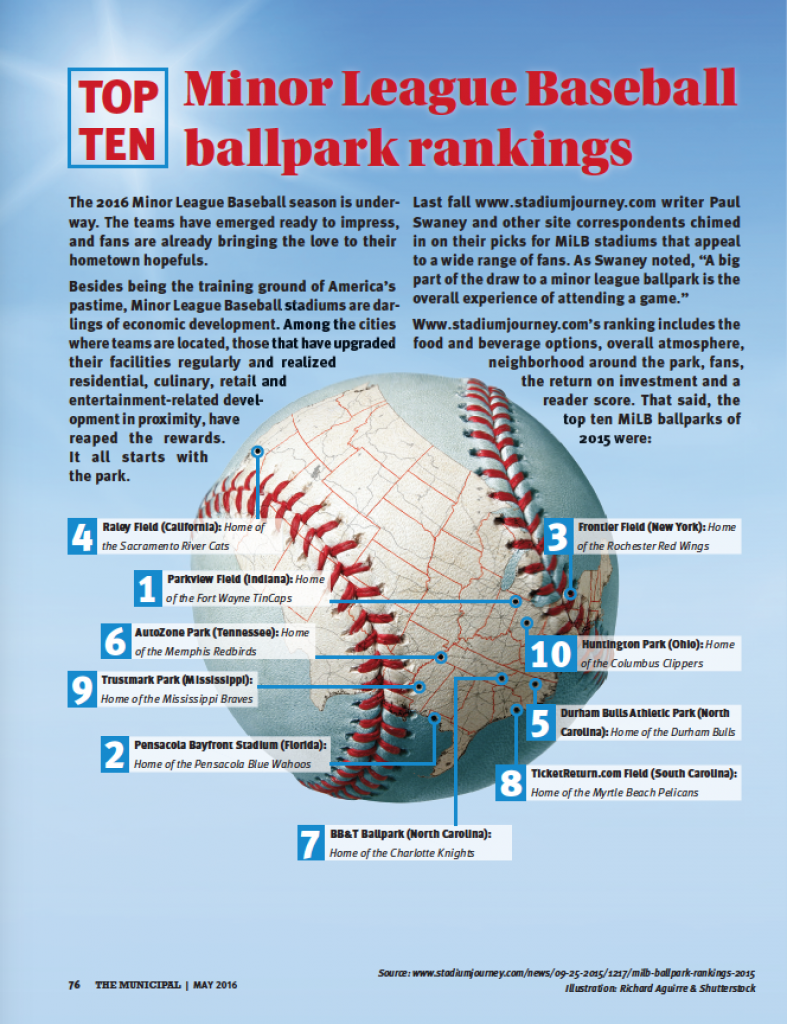 10. Huntington Park (Ohio): Home of the Columbus Clippers
9. Trustmark Park (Mississippi): Home of the Mississippi Braves
8. TicketReturn.com Field (South Carolina): Home of the Myrtle Beach Pelicans
7. BB&T Ballpark (North Carolina): Home of the Charlotte Knights
6. AutoZone Park (Tennessee): Home of the Memphis Redbirds
5. Durham Bulls Athletic Park (North Carolina): Home of the Durham Bulls
4. Raley Field (California): Home of the Sacramento River Cats
3. Frontier Field (New York): Home of the Rochester Red Wings
2. Pensacola Bayfront Stadium (Florida): Home of the Pensacola Blue Wahoos
1. Parkview Field (Indiana): Home of the Fort Wayne TinCaps
Source: www.stadiumjourney.com/news/09-25-2015/1217/milb-ballpark-rankings-2015
Illustration: Richard Aguirre & Shutterstock