Park program decreases juvenile delinquency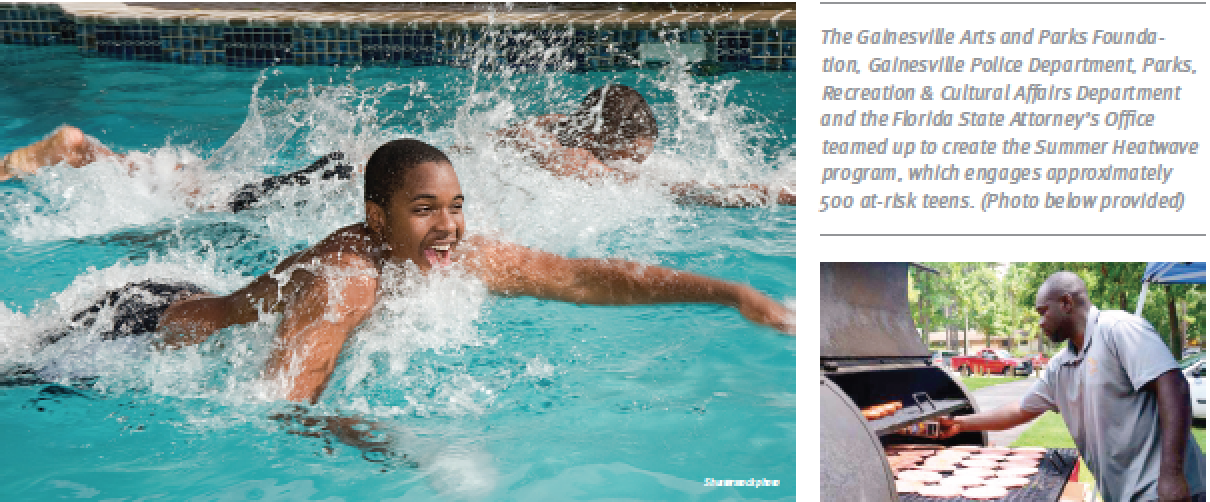 A trip to the local park is a beloved and relatively frequent outing in most children's lives. From the slides and swings to the monkey bars and merry-go-rounds, parks departments offer youngsters both fun and the opportunity to socialize with others.
During the last few generations, however, issues surrounding youths' social and entertainment media addictions, along with childhood obesity, have infringed on the healthy habit of frequenting a park. New programs have sprung into existence to promote physical activity and healthy social engagement among all ages: Unfortunately, not enough of them are designed for or are appealing to the preteen and adolescent demographic.
The problem
Without adequate guidance and positive stimulation for youth, communities are prone to higher rates of juvenile crime. These offenses can include, but are not limited to:
Truancy
Theft and destruction of property
Drug use and distribution
Gang activity
Violent crime
The Florida's State Attorney's Office found that approximately 90 percent of juvenile offenses involved youth between the ages of 13–18. In 2000, there were 2,373 documented juvenile offenses in the county of Alachua alone.
A number of factors can contribute to such figures.
Extremely permissive or authoritarian parenting style
Unfavorable peer group association
Low socioeconomic status
Poor educational performance
Certain mental health issues
The program
In response, the Gainesville Arts and Parks Foundation, Gainesville Police Department, the Parks, Recreation & Cultural Affairs Department and the Florida State Attorney's Office teamed up to create the Summer Heatwave program. Shannon Keleher, Gainesville parks' recreation manager, said the 2008 experiment was originally developed and funded to serve approximately 200 at-risk teen citizens of Gainesville and Alachua County. Since then, it has seen measurable success.
"The Summer Heatwave program is currently featured as a best practice for building partnerships and community impact by the National Recreation and Park Association," said Keleher.
Summer Heatwave offers a variety of beneficial and engaging activities during the summer, when school is out. Among these are monthly pool parties, structured team sports complete with a basketball league and teen lounges for socializing in the evening hours.
The program is free of charge to participants. The only requirements for joining are to meet the age specifications, be enrolled in school and attend Character Counts, a nationally sponsored program featuring a life skills curriculum developed by the PRCA that encourages positive development and engagement between the police department and community.
All lessons are built around the six pillars of the Character Counts program: trustworthiness, respect, responsibility, fairness, caring and citizenship.
"The participants also receive training in such life skills as opening a bank account and applying for employment," said Keleher.
Hours of operation are 5–10 p.m., Monday through Friday, with special events taking place various Saturdays. The schedule is strategically designed to keep the program available to youth during hours when juvenile crime peaks.
The progress
Gretchen Casey, director of victim services at the Florida Office of the State Attorney, 8th Judicial Circuit, documented through court records that since Summer Heatwave began, the occurrence of juvenile crime has seen a steadier decrease than during the years prior to its implementation. Specifically, Alachua County saw a 40 percent decline in crimes committed by the adolescent population within the first six years of the program's influence.
Keleher reported that heading into summer 2016, Summer Heatwave can expect to continue serving approximately 500–525 at-risk youth — a capacity that has more than doubled since the program was founded.
The proceeds
So how does Summer Heatwave continue to grow in both resources and accommodation if joining remains free to participants? In 2015, it cost approximately $61 per participant to operate the program. Expenses included jerseys; officials and trophies for sports teams; food and drink for pool parties; materials and supplies for teen lounges; and transportation costs for members pursuing further education by touring colleges and universities throughout the state. Heatwave's Mickle Pool also received a $152,000 upgrade in 2015.
"Funding is made possible by the city of Gainesville's general fund, with both the PRCA and GPD contributing money and inkind services," said Keleher. "We have done a crowdfunding campaign in the past and have also received donations to help supplement the money PRCA and GPD allocated."
The prolificacy
Parks and recreation departments have had a successful hand in reducing juvenile crime all across the country. Not only have their programs been valuable to youths, but to the whole community.
"A lot of times we hear members of the community complaining about the amount of money spent on park and recreation programs," reported Mary Eysendach, director of Conservatories in the Chicago Park District. "What people need to understand is that those investments are returned tenfold in terms of saving money not spent on traditional crime deterrents."