PALADIN ATTACHMENTS LAUNCHES NEW BREAKER LINE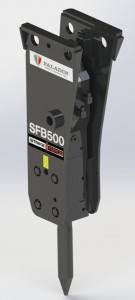 FOR IMMEDIATE RELEASE: March 24, 2016‐ Dexter, Michigan Paladin Attachments, a leading manufacturer of coupler systems and attachment tools, has announced a line of Hydraulic Breakers to its product offering. The addition of the new Strike Force™ Breaker Series is in support of the company's ongoing commitment to product diversification and manufacturing excellence.
The Strike Force™ Breaker line has a wide range of models and sizes for various carriers and applications. The Small Mounted Breakers are ideal for jobs on mini excavators and skid steer loaders requiring safe and efficient handling with a high breaking capacity. The robust structure with advanced noise reduction technology makes the Mid‐Range Breakers the optimal solution for trenching and demolition. The larger sizes of Strike Force™ Breakers have the most efficient piston and cylinder design to transfer the highest shock wave into breaking objects. These heavy‐duty breakers provide maximum results and return on investment for rental, general construction, excavation and demolition. All of Paladin's Strike Force™ Breakers are durable and reliable construction with only two moving parts for easy service and maintenance and are backed by a 2 year warranty.
Mike Cardinal, VP, Global Sales for Paladin Attachments commented, "Paladin is extremely excited to be able to offer our dealers, OEM partners and end users, this new product line. We value our ability to provide a one stop shop experience, and hydraulic breakers allow continuation of that value proposition. "
About Paladin Attachments
Paladin Attachments is a leading global manufacturer of couplers and attachments for the construction, landscaping, aggregate, agriculture, land clearing & maintenance, demolition, recycling, snow removal, government, mining, energy and forestry market segments. Paladin's brands include Bradco, CP, CustomWorks, CWS, FFC, Harley, Jewell, JRB, Kodiak, McMillen, and Sweepster.
For more information about Paladin's entire coupler and attachment offering, call 800‐428‐2538 or visit the company's website at www.paladinattachments.com.