On April 18, south side Chicago resident Ola Oni was heading to work when she saw something that looked like it came straight out of a Stephen King thriller. A large sinkhole had opened in the 9600 block of South Houston St., swallowing her car and two other vehicles. She was not in her car when the incident occurred, but another driver was not as lucky and had to be hospitalized for minor injuries.
The Chicago sinkhole is just one of a rash of sinkholes reports that have popped up around the nation, even in northern states, during recent months. Since February, sinkholes have trapped animals, engulfed swimming pools, resulted in one death and made people generally more nervous. However, experts say there is little reason for panic. Sinkholes are more science fact than science fiction, and more common than the public thinks.
Different types of sinkholes
According to David Weary, research geologist with the U.S. Geological Survey, sinkholes are the result of ground surface falling into some kind of void in the subsurface. They appear naturally in areas where the rock below the surface is limestone, carbonate rock or other material that is easily dissolved by circulating groundwater.
"Other types of sinkholes are the result of ground falling into voids resulting from human engineering activities," he said, noting that the culprits are often aging or leaking storm drains, sewers or storm water retention ponds. If these structures leak, they can move particles of loose sediment or artificial fills and create underground voids that eventually collapse. "These are usually the type of sinkhole that we see in developed areas that don't have natural caves beneath them."
Samuel Panno, senior geochemist with the Illinois State Geological Survey, said the Chicago sinkhole was the result of an aging sewer system coupled with heavy rains and flooding in the early spring.
"When the water pipes and sewer lines break, water rushes into the soil where it tends to create the pathways that can lead to sinkholes over time," he said. Panno noted that sinkholes are common in older cities but are not related to the presence of limestone in the bedrock like in Indiana, Kentucky and other areas of the country. "Ours are more man-made."
Authorities confirmed that the Chicago sinkhole occurred as the result of heavy rains and flooding, which exacerbated a break in the waterline. Other experts have said that last year's drought-like conditions, this year's heavy spring rains and even hurricanes may be at the root of the increase in sinkhole activity.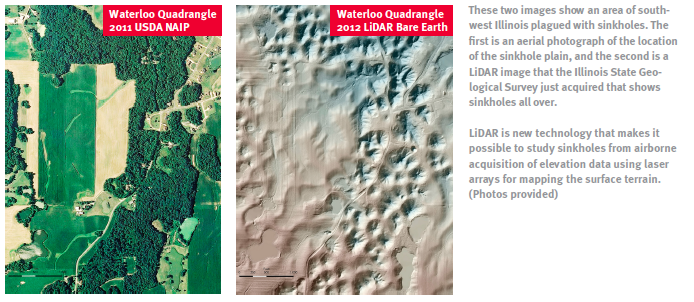 Community concern
In addition to aging infrastructure, another reason for the surge in sinkhole activity is an increase in development on land where sinkholes are common. Because it's unlikely that communities will stop developing these areas, it's important for leaders to understand the nature of sinkholes, calm the public and identify potential problem sites before a collapse occurs.
Panno emphasized that there is no "typical" sinkhole event and that they range in size and shape with the Seffner sinkhole — that caused the death of a man in Florida during February — being extremely uncommon and rare. There is no way to predict how big or how deep a sinkhole may be. Some are only a few feet in diameter, while some are extremely deep. The only way to avoid them entirely is to not build on land where a sinkhole is likely to develop.
"For places like Chicago, where the sewer systems are over 100 years old, there is a push to systematically repair these things before sinkholes happen," he said. "Unfortunately, cities have limited budgets and not everything can be done at once."
Sinkholes are very costly, causing millions of dollars in damage to buildings and roads across the country. Though Chicago is not known for the same level of sinkhole activity as some southern states, when do they happen the financial loss can be devastating to both public and private sectors. Panno said a few years ago a Chicago condominium building was compromised when a broken sewer line eroded the land below the structure and damaged its structural integrity. The whole building had to be condemned, causing residents to lose their real estate investment.
"It's unfortunate when that happens. It takes a lot of time and money to remediate them, and if you are already in a place that is conducive to sinkholes, it's likely that more can and will happen in the future."