Thompson Pump Announces Branch Location Move to Biloxi, MS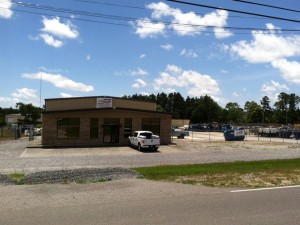 PORT ORANGE, Fla. – Thompson Pump & Manufacturing Co., Inc. headquartered in Port Orange, FL announces the recent move of their southern Mississippi branch from Pass Christian to a larger facility at 9257 West Oaklawn Rd. in Biloxi.
The new facility with 4,000 square feet situated on two acres near corridor I-10 is one of 21 Thompson Pump branches nationwide. The Biloxi branch office better accommodates the company's growing customer needs for rentals, sales, parts and service in southern Mississippi and lower Alabama.
Under the direction of Branch Manager, John Thornton, and Salesman, Todd Cedotal, the fully staffed branch provides a full line of Thompson Pump products for sale and rental and the expertise to provide 24/7 service solutions for the toughest dewatering, bypass and special pumping applications, especially emergency response to hurricanes and flooding.
Customers can contact the branch by phone number 228-392-0870 or by fax number 228-392-0110.
"This move is welcomed by our staff as they continue to face increasing rental and sales demands in the Gulf region," said Johnny Britt, Thompson Pump Gulf Coast Regional Manager.  "The new and improved location provides for increased growth and will enable us to enhance our commitment to the highest quality customer service."
Thompson Pump
Thompson Pump is respected worldwide for its sophisticated heavy-duty lines of high quality, high performance pumps, ranging in size from 2 to 24 inches. Thompson Pump sells and rents their entire line of pumps in the areas of public works, construction, agriculture, dewatering, mining, sewer/lift stations, and water/waste water. Types of pumps designed and manufactured by Thompson include wet prime trash pumps; dry prime trash pumps with compressor-assisted or vacuum-assisted priming systems; sound attenuated pumps; utility trash pumps; diaphragm pumps; hydraulic power units with submersible pump ends; rotary, vacuum and piston wellpoint pumps and high pressure jet pumps. With these different types of pumps, as well as a full complement of accessory hoses and piping, Thompson can supply the proper pump and system for any application.  In addition, Thompson provides engineering services and special applications consulting for complicated wellpoint, bypass or multiple pump systems; and offers thorough pump and dewatering education and training through its Pumpology® courses.
Thompson Pump, a 43-year old family-owned company based in Port Orange, Fla., is a full-service manufacturer and provider of high quality pumps, pumping equipment and engineering expertise for the toughest dewatering, bypass and emergency pumping applications.  Since 1970, Thompson Pump has assisted clients worldwide with pump rentals, sales, service, repair, design, installation and operational support.  Thompson Pump operates sales, rental and service centers throughout the United States with 21 branches. The company is also aligned with distributors around the world.  Thompson Pump is a Blue Chip Enterprise Award winner and their products meet the requirements for certification as defined by the Contractors Pump Bureau. Thompson Pump holds numerous product patents along with the registered trademarks of Enviroprime®, Silent Knight®, and Arctic Knight®.
The company achieved ISO 9001-2008 quality certification for their Port Orange manufacturing facility. Thompson Pump is one of only a very few pump companies to have obtained ISO 9001-2008 certification. The globally recognized certification was granted following independent testing and assessment of the company's quality management systems and manufacturing capabilities.
It is common to see Thompson's pumps on some of the largest and most challenging projects in the world. Whether the job requires cleaning up an oil spill in Alaska or the Gulf of Mexico, dewatering a construction site for a nuclear power plant in Georgia, widening the Panama Canal, raising a submarine in the Atlantic, moving an east coast lighthouse, fighting western fires, controlling floods in the Midwest, handling an irrigation project in Africa or dealing with a tragic disaster in New York, Thompson Pump is there. For more information, call (800) 767-7310 or log onto www.thompsonpump.com.
Follow Thompson Pump
Thompson Pump brand can be followed on various social media channels, including Facebook, Twitter, and YouTube.