HUSKY'S FOLDING FRAME TANKS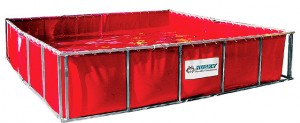 Single-, double-fold or custom-size tanks are available
from Husky. Exclusive (patent pending, published June
10, 2010) easy-lift handles are installed on all Husky liners,
making Husky portable frame tanks the easiest and quickest
to fold. Husky's quality and service are what you would
expect from a leading manufacturer.
Husky Portable Containment
Dewey, Okla.
(800) 260-9950
www.huskyportable.com