Green Truck Summit and The Work Truck Show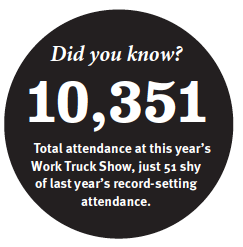 By all accounts, NTEA's The Work Truck Show and the Green Truck Summit at the Indiana Convention Center and Lucas Oil Stadium were rousing successes. In spite of an ill-timed snowstorm that socked some travelers, the 2013 show still had a verified attendance that was just 51 people shy of record-setting.
Many of the exhibitors present had well-established, municipal-specific applications, including Ford Motor Company, which debuted its new Transit at the event. Numerous manufacturers introduced their chassis updates, and participants sat in on educational sessions on topics ranging from establishing a replacement program to updating their leadership skills. More than 1,700 guests attended the opening evening's events. Guests at the opening reception had the unique opportunity to explore the football field and stadium, as well as throw, kick and catch the football while enjoying good food and company.
The Green Truck Summit had its highlights as well, including a keynote speech by Ron Schoon, executive manager of partnership development at National Renewable Energy Laboratory, who brought up the national database of duty and drive cycles applications that's on its way. Green Truck participants gained insight into industry growth, techniques to analyze a company's financial performance and elements of an effective fleet replacement program, as well as a plethora of other industry-specific topics, and had the chance to look under the hood and test drive several alternate fuel and green technology vehicles.
Reconnecting with familiar faces, including those from American Force Wheels Inc. and Liquid Spring, was a highlight for The Municipal sales representatives Christi Sausaman, Karen White and Matt Dudlak. Our goal is to establish even more working relationships at The Work Truck Show 2014.