After 100 years, a solution to ride vs. handling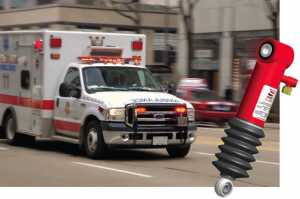 Ride quality vs. handling has been a trade-off for automotive and truck design engineers since the early development of vehicle suspension systems. Achieving a soft, compliant ride as well as controlled, stable handling has been commercially impossible until now.
LiquidSpring Technologies Inc., over the past several years, has developed and patented a unique and revolutionary way to solve the ride and handling tradeoff. The solution was derived by utilizing a compressible liquid and configuring it in a way which can provide both an extremely soft and extremely stiff spring in the same vehicle. While the basic solution is a compressible liquid and its configuration, to produce the desired ride and handling the system must be controlled.
This control is achieved by monitoring the sensor data from the vehicle, such as speed, variance in ride height, and steering wheel and brake information.
The sensor data is retrieved by an electronic controller which, through a series of algorithms, adjusts the amount of compressible fluid that is operable at any given instant. In addition to changing spring stiffness, the algorithms simultaneously control damping. In other words, spring stiffness and damping are changed instantaneously and automatically based on road conditions and how the vehicle is driven. The system also controls leveling and height, which enables consistent ride quality for variable load conditions.
The technology is known as CLASS®, which is an acronym for Compressible Liquid Adaptive Suspension System. An affiliate of LST, LiquidSpring LLC has commercialized and manufactured CLASS®. As part of its product verification and validation process, LiquidSpring has performed a STURAA (Altoona) 5-yr/150,000-mile schedule structural durability test on a Ford E-450 equipped with CLASS® at Bosch Automotive Proving Grounds.
LiquidSpring has recently given test rides in its E-450 demonstration limo to ambulance and limo/shuttle bus manufacturers, as well as to their dealers. The words and phrases used to describe the ride/drive experience included "awesome," "very impressive," "unbelievable," "this is a game changer," and "controlled evasive maneuver is a real safety factor."
The ride and handling of CLASS equipped vehicles is so much improved over other suspensions that it has to be experienced in person to adequately appreciate it. Words alone do not do it justice.
LiquidSpring is now offering suspension kits for the E-450, F-450, F-550 Ford chassis, Ram 4500 and 5500 Dodge chassis. Navistar and Chevrolet kits are undergoing development.
For more information about the CLASS system, contact Carl Harr at (765) 474-7816, ext. 108, or email sales@liquidspring.com.
Information provided by: LiquidSpring LLC