Confined space rescue preparedness, equipment is essential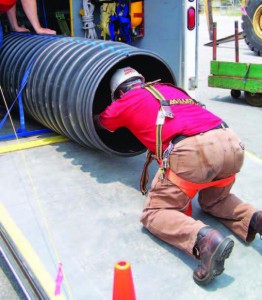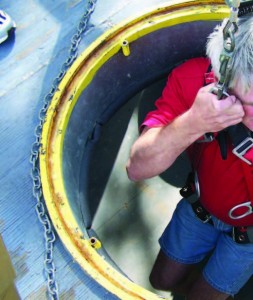 Confined space rescue preparedness is an essential component of any business or municipality. Confined space training is required for entry into sewers, underground utilities, tunnels and other spaces. But often employees are not trained properly or safely, meaning it can be a matter of life or death in an emergency situation.
Scott Baldwin, director of Confined Space Training Services in Toledo, Ohio, said the right training is critical. CSTS assists major industrial companies and municipalities, including fire departments, with confined space entry training and learning how to do confined space rescue training the proper, safe way.
CSTS' training meets and exceeds Occupational Safety and Health Administration requirements. However, Baldwin said some employers don't uphold OSHA and state standards, exposing employees to hazards and violations.
"It's a major problem," he stated.
Firefighters are among the workers that CTS trains. "We are firefighters, and we train firefighters," Baldwin said. CTS offers hands-on training using a mobile simulator for vertical and horizontal confined space rescues.
He said many employees are not adequately trained to work in or around confined spaces, nor are they adequately trained on the use of equipment or the proper procedures.
"So, employers are willingly putting employees at risk. Over 50 percent of fatalities are due to atmospheric problems," Baldwin said. "We tell them exactly what is required by federal law."
The Right Equipment
Just as important as the training is the right equipment. Lighting is a big part of confined space training. According to David Reiff, sales manager of General Manufacturing Inc., the makers of SafTLite, lighting is very essential in confined spaces.
"It's critical to train employees to examine the types of confined space they are entering as there are many things to consider before entering," Reiff stated.
He added that a major aspect is what type of atmosphere one is entering because it determines what type of lighting is necessary. There are three types of confined space entry lighting: hazardous location, standard dry location and wet location lighting.
"If entering an area that has flammable gasses or dust, either an explosion proof or intrinsically safe light would be required. If the area is just confined and can become electrified, appropriate low voltage lighting or GFCI protection is required," he stated.
Several types of lighting might be applicable, including:
1. Corded Confined Space Lighting
Most confined space entry lighting consists of a low-voltage light that is explosion-proof: a wet or dry location light with a cord leading to a power supply or transformer that has an input cord that is plugged into a 120vac outlet. The transformer/power supply takes the 120v power and drops it to the low-voltage that the light requires. Everything from the output side of the transformer/ power supply is low voltage and may enter the confined space. The transformer and input cord are 120v and must remain outside the confined space.
2. Cordless Confined Space Lighting
Another category of confined space entry lighting is the cordless type, which would be a wet or dry location flashlight or an intrinsically safe light. Intrinsically safe lighting operates off of battery pack and is designed and tested for use in flammable atmospheres. There are two major types of flammable atmosphere: Class One, which is flammable gasses, or Class Two, which is flammable dusts. There are sub-categories that determine the type of gas and dust in which the light is rated for use.
Lighting used in hazardous locations must have the appropriate rating clearly indicated on the light.
A final option for lighting in confined spaces is a standard dry location or a wet location 120v light with a GFCI protected plug. The GFCI plug protects the user from shock hazards associated with being in a confined space location.
Rescom Sales Inc. makes products for confined spaces. Terri Danahy, communications manager for Special Electronics & Designs Inc. and Rescom Sales Inc., said training and the right equipment definitely go hand in hand.
"You require both skill and the proper tools to get the job done right, especially in dangerous and hazardous situations," she said.
Rescom carries specific equipment for confined spaces, including the RESCOM Modular hardline communication system: a full duplex, live system for up to 10 users at a distance of up to 3 miles between users.
She said confined space work is found in many industries.
"Our clients include fire and police departments, search and rescue tactical, training facilities, nuclear, mining, refineries and many more. They use Rescom Modular as a secure, reliable, continuous communication system where any other form of communication will not perform. This can be a matter of life or death in confined space rescues in any industry or public sector. Our system also includes the only NFPA-approved rope with the communication wire built in, thus improving line management and safety."