Maple Grove, Minnesota: Bucking the trend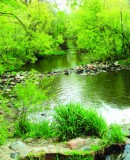 Maple Grove, Minn., is known for its central location just 25 minutes from Minneapolis. While other towns have struggled in recent years due to the economic recession, Maple Grove has ranked in the top five fastest-growing cities in Minnesota for the last 15 years. Residents often come to Maple Grove for the location and stay for all the special perks the community offers, such as excellent schools, a reliable transit system, low crime rates and the regional parks.
Al Madsen has seen the town grow from 18,000 to 64,000 in his 30-year tenure as the city manager. He said the steady growth is due to a number of factors, including the town's proximity to a major city, its government stability, the ability to follow plans and its citizen participation.
"We haven't developed just for the sake of development," said Madsen. "We have done so carefully and slowly. We've been picky and followed our plans."
Maple Grove is now enjoying the fruits of that labor. It was recently ranked No. 22 on CNN Money Magazine's Top Places to Live in the Nation ranking, and is one of the few states in Minnesota that boasts a prestigious AAA credit rating.
The city's priority is to serve both residents and businesses for the benefit of everyone. One way to do this has been to be proactive and develop relationships with businesses and get to know their needs. Maple Grove is home to large corporations, such as Boston Scientific and Hartford Insurance, as well as smaller businesses.
The Shoppes at Arbor Lakes is an award winning dining, shopping and office development that attracts residents and visitors. Maple Grove also is home to three regional parks comprised of over 3,500 acres of biking and hiking trails, playgrounds, nature areas and lakes that offer outdoor swimming.
One key to the city's stability and lack of turmoil is government transparency. "I'm a strong believe in communication," said Madsen. "We spend a lot of time communicating through our blog, newsletter and cable TV show."
With all the growth the city has enjoyed over the years, one challenge has been transportation. "It's always a struggle to make sure that you have enough capacity to handle traffic flows associated with growth," he said.
Madsen says the city operates in an orderly manner and has two comprehensive land use plans that they follow religiously to stay on track. "We've gotten to the point now where we are ahead of the game, but we have been working on this with the state for years," he said. "It's always a good idea to plan for the road capacity before you have a huge influx on people and businesses."
Strictly following a long-term plan for development has helped the city of Maple Grove, Minn., effectively manage a large growth in population. The Maple Grove, Minn., location of a Boston Scientific laboratory is one of the town's major employers. The outdoor pool at Maple Grove, Minn.'s community center was built even as the economy took a turn for the worse, because of remarkable fiscal planning on the part of city officials. An unusual-looking sports complex in Maple Grove, Minn., is open to the public for a variety of sports and exercise programs that include batting practice, walking/jogging and soccer. The city of Maple Grove, Minn., enjoys abundant natural beauty, such as this view from the arboretum at Elm Creek.
For more information about Maple Grove, Minn., visit www.maplegrovemn.gov