The answer to quick set-ups at work zones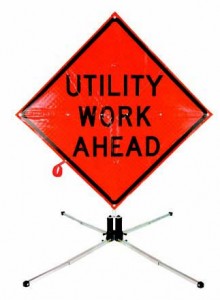 Municipalities are always looking for ways to improve work zone safety. It has been established time and time again that setting up a work zone quickly and easilywith portable sign systems gives an added measure of protection for workers. It gets them out of harm's way fast and provides effective communication with motorists to guide them through the work zone and keep workers safe.
The rapid-deploying MDI Compact System sets up in less than 20 seconds. The system has two components. First is the MDI Compact sign, which is constructedof retroreflective vinyl that's highly visible in the daylight or with headlights. Second is the WindMaster sign stand, which has dual springs for maximum flexibility in wind gusts or the push/pull forces of passing traffic. The sign stays standing and message, visible.
The patented MDI Compact sign is equipped with MDI's exclusive single trigger release lever for instant deployment and take-down with just the push of a button. The WindMaster sign stand features kick-release, telescoping legs for easy set up and enhanced stability. To store, the sign folds down, wraps around the crossbase and stays in place in the sign stand so the system is ready for immediate use in just seconds.
In addition to the WindMaster sign stand, the MDI compact sign can be mounted to a standard receiver hitch with our hitch mount brackets, available in a telescoping or non-telescoping style. Again, the sign and bracket can be stored as one allowing workers to set up the sign quickly and safely.
Improve worker safety with the reliable and fast-deploying MDI Compact Sign System. It's on the job day and night to inform and guide motorists through the work zone and to keep workers safe. The MDI Compact Sign System is proudly manufactured in our Farmington Hills, Mich., headquarters along with a wide variety of other safety products.
Since 1975, MDI has been designing and manufacturing state-of-the-art traffic control products and is the inventor of WindMaster, the first wind–resistant, portable sign stand in the industry.
Information provided by MDI.