Mayberry Mount Airy, N.C.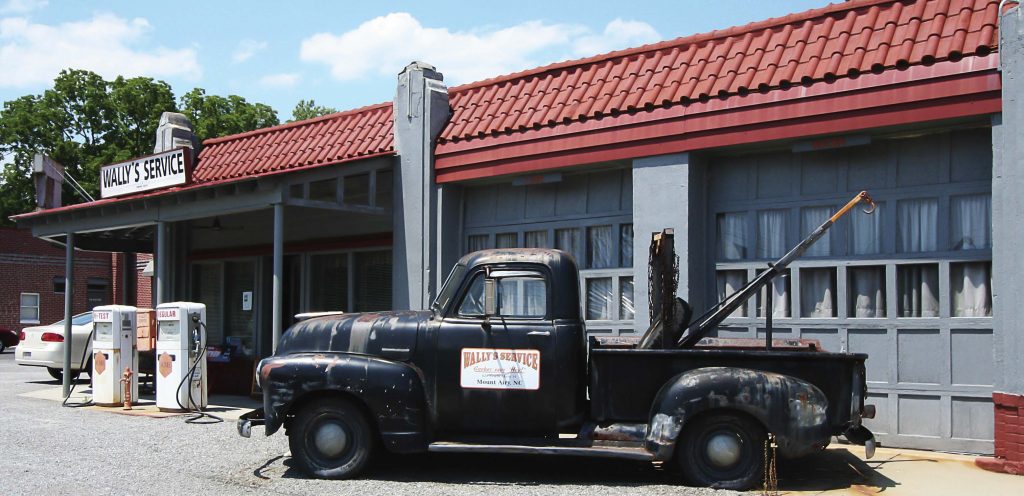 Some say the town of Mayberry, N.C., existed only on a television lot in Hollywood. Others insist it is a state of mind more than a physical location.
But Mayberry does exist — in Andy Griffith's hometown of Mount Airy, N.C.
Many of the buildings from the "The Andy Griffith Show," which aired 249 half-hour episodes over eight seasons from 1960- 1968, have been recreated in Mount Airy, the town upon which Griffith (1926-2012) patterned the iconic fictional community.
The show never ranked lower than seventh in the Nielsen ratings and ended its final season as No. 1.
The building used as Mount Airy's real jail for years was converted into a replication of the courthouse from the show. Visitors are invited to sit in Sheriff Andy Taylor's chair and put their feet up on his desk. They can also type on the vintage typewriter and sit in one of the recreated jail cells.
A vintage 1962 Ford Galaxie squad car is parked in front of the building.
The attraction is open from 8 a.m. to 4:30 p.m. Monday through Friday.
Adjacent to the jail is Wally's Service Station, originally a Gulf station built in 1937 and later operated as a Standard Oil franchise. The building houses The Fruit Basket, which offers a wide variety of souvenirs and collectibles.
Mayberry squad car tours leave from the station throughout the day. The service station is open year-round with hours depending upon the season, but most of the time operates from 9 a.m. to 5 p.m. Monday through Saturday and 10 a.m. to 4 p.m. Sunday.
Floyd's Barber Shop boasts thousands of photos along its "Wall of Fame," snapped by owner Russell Hiatt for more than six decades. Celebrities include Oprah Winfrey, Lou Ferrigno and George Lindsey, who played Goober in the original series. Hours vary, but the most opportune time for a visit and a haircut is before lunchtime. Speaking of lunch, the diner where Griffith ate as a young boy is open from 5:45 a.m. to 1:45 p.m. Monday, Tuesday, Wednesday and Friday and 5:45 a.m. to 1:15 p.m. Thursday and Saturday.
Snappy Lunch opened in the 1920s and was mentioned in an early episode of "The Andy Griffith Show." Its specialty sandwich features a boneless tenderized pork loin chop dipped in sweet-mile batter and fried until golden crisp.
Griffith's home where he lived during his adolescence until he graduated high school is available for nightly rentals. The home is within easy walking distance from the other attractions, including Opie's Candy Store and Mayberry Soda Fountain.
Aunt Bee has a room dedicated to her memory at the Mayberry Motor Inn and contains more than 30 authenticated items belonging to the late actress Frances Bavier, including gloves, eyeglasses, a handkerchief, dress and hat.
Two adjacent buildings round out the selection of attractions dedicated to Griffith. The Andy Griffith Museum, opened in 2009, houses the world's largest collection of Andy Griffith memorabilia, largely compiled by Griffith's childhood friend Emmett Forrest, including the "Sheriff" and "Justice of the Peace" signs that hung on the courthouse doors.
The museum also includes mementos from other cast members, such as Don Knotts, who played Deputy Barney Fife; Betty Lynn, who played Thelma Lou; and Maggie Peterson, who played Charlene Darling.
The museum is open 9 a.m. to 5 p.m. Monday through Saturday and 1 to 5 p.m. Sunday. It is closed only on Thanksgiving and Christmas.
The Andy Griffith Playhouse, originally built in the 1920s, served as the first public school in Mount Airy. Operated by the Surry Arts Council, the building hosts year-round classes, theater productions, art camps and live music concerts. Griffith attended the school in the 1930s and 1940s, where he performed on stage.
In front of the museum stands a bronze statue of Sheriff Taylor and his son, Opie, carrying their fishing gear to the old fishing hole.
The municipality of 10,347 has hosted Mayberry Days since 1989. The seven-day festival evokes the simpler days and visitors can enjoy a bottle of pop while playing checkers; relax to music performed on "The Andy Griffith Show"; indulge in a pie eating contest; and participate in a trivia contest about the show.
Dates for the 2018 festival are Monday, Sept. 24, through Sunday, Sept. 30.
For more information, visit www.visitmayberry.com or www.surryarts.org.