Incentives over $40,000 available for green Autocar Trucks in California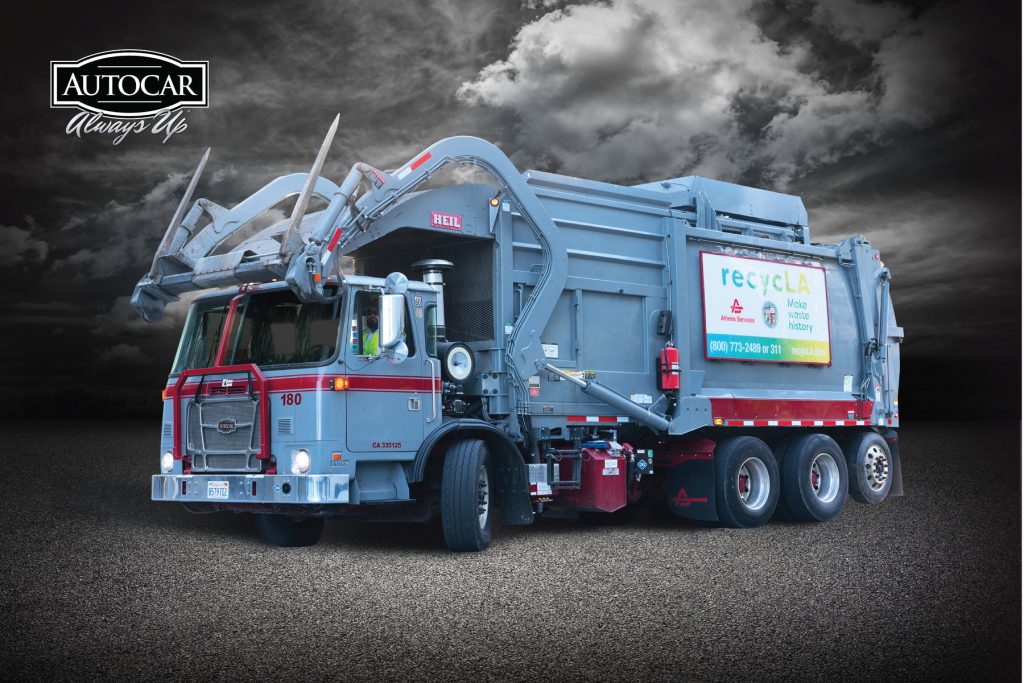 Birmingham, Alabama (February 21, 2018) – Autocar Trucks announced today its sales team in California is now assisting customers to obtain incentives of over $40,000 per truck when they purchase the latest generation of clean Autocar CNG trucks. The California Air Resources Board (CARB) Hybrid and Zero-Emissions Truck and Bus Voucher Incentive Program (HVIP) is intended to accelerate the purchase of cleaner, more efficient trucks in California. Qualifying Autocar trucks feature Cummins L9N Near Zero engines or the more powerful ISX12N Near Zero engines – both of which minimize emissions and still provide the horsepower needed for severe-duty refuse applications. The package of incentives available ranges from $10,000 per truck to over $40,000 per truck, depending on the engine selected and other characteristics of the fleet.
Autocar was the first truck manufacturer to bring these ultra-low emissions ISX12N and L9N Near Zero engines to the refuse market. "Autocar was the pioneer in bringing clean CNG trucks to the refuse industry and we're first in bringing the new generation of ultra-clean trucks to the market now" said Jim Johnston, president of Autocar. "We're happy to be able to help our customers obtain these valuable incentives so they can benefit from the latest technology." The NOx (nitrogen oxides) emissions of these new engines is 90% lower than even the latest EPA standards.
The first Autocar refuse truck built with an L9N Near Zero natural gas engine belongs to Athens Services, based in Industry, California – and this was no coincidence. The Autocar team worked with Athens to custom-engineer the truck to meet their business needs and reach their goal of reducing greenhouse gas emissions. "Autocar listens to the industry and makes the changes and improvements that are suggested by the people who use the truck," says Marty Mitchell, Director of Maintenance for Athens Services. "Then there's the product support after the sale that ensures you receive the maximum value of your purchase: lowest operating costs per hour."
Athens Services is one example of a growing number of waste and recycling haulers across the state of California and North America relying on Autocar trucks to meet city and state clean energy initiatives and reduced emissions. "Autocar is number one. In talking with other cities, haulers, and body manufacturers, they all prefer the Autocar. They have the least amount of problems. I come from an engineering background. I look at how things are built and that's number one for me: how long it's going to last," says Steve Keller, Fleet Maintenance Manager for the City of Claremont, California. Autocar is working with its California customers to ensure they receive the HVIP incentives for new trucks.
Autocar trucks that meet CARB HVIP requirements could receive up to $40,000 in incentives for a low-emissions engine. There may also be opportunities for additional incentives. The first three vouchers from any single fleet may receive an additional $2,000-$10,000 and fleets located in a defined disadvantaged community may receive a further $5,000-$15,000.
This incentive is a point-of-sale discount, which means there is no work for the purchasing party and no waiting on a rebate check or tax credit. Several other financial incentive programs and useful exemptions are also offered in addition to the CARB program. To take advantage of the Near Zero engine incentive programs, haulers planning for new refuse trucks are encouraged to reach out to their Autocar representative for complete support in navigating the inventive programs – or visit www.AutocarTruck.com/HVIP to get started.
About Autocar
Autocar® is the oldest motor vehicle brand in the United States and built America's first truck, in 1899. Focused on purpose-built trucks from the very beginning, today Autocar is the leading American manufacturer dedicated to severe-duty cab-over-engine trucks. Autocar has strong and growing positions in the markets for biggest, baddest trucks on the road, such as Class 8 refuse and recycling trucks, concrete pump trucks, terminal tractors, and other severe-duty vocational applications. A proudly American-owned company, Autocar builds trucks in Hagerstown, Indiana and Birmingham, Alabama and is affiliated with GVW Group, based in Highland Park, Illinois. www.AutocarTruck.com